Choosing the Best Dog Gate
Pet gates are an incredibly useful tool to keep your puppy or dog safe around the home. Whether you need to restrict access to a certain room or to the stairs, dog gates provide a safe and convenient barrier in your home. Pet gates help you to easily create safe zones and personal space for everyone.
When looking at all the options, you will see that there are extra tall gates, free standing barriers, pressure fitted and quick install gates, doorway and stair gates, and so on. With so many types to choose from, how do you select the best dog gate for your needs?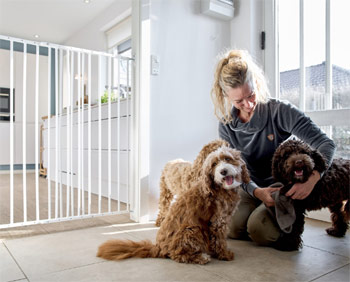 Let's start by discussing dog gate use.
Are dog gates a good idea?
Yes! The home can be a dangerous place so restricting access for pups and dogs is often a good idea, even with the most well behaved dog. Cooking with a dog under your feet is never ideal or you might want to restrict access to a children's play area, for example. Stairs can be dangerous for pups or you may want to stop your adult dog from going upstairs. Barriers and gates can also be a great training tool, giving pup the chill-out space and separation they need in a way that let's them still see you.
Pet gates offer your furry friend the space they need or the peace of mind that you need, keeping everyone safe from harm or distraction.
Baby gate or dog gate?
The design of a baby gate and dog gate is similar but will not be the same, simple because babies and dogs are different. Dog gates need to be able to withstand all sorts of jumping and chewing. Pet gates therefore tend to be of a heavier construction and are often a lot taller because, unlike babies, dogs can jump. On the other hand, baby safety gates will need to meet certain requirements and safety standards. We would not suggest using a pet gate for a child or vice versa. The differences are small but important.
DogSpace Pet Barriers
At D for Dog we sell a range of dog gates by DogSpace, who have been designing and producing pet gates for more than 100 dog years. They are part of the BabyDan child safety gate group, so they really know baby gates and dog gates.
With more than 70 years in the baby safety industry, the DogSpace team have used all those years of thorough designing, testing, and fine-tuning to bring the strict regulations of child safety to the pet industry, so you know your pooch is in good hands.
Once you are happy with your choice of brand, you need to choose the correct pet barrier for your specific needs.
Pressure Fitted Pet Gate
Quick install pet barrier gates that simply pressure fit into the space are handy and very popular but it is important to understand their drawbacks. Pressure fitted dog gates, if put under enough force, can give way so this kind of barrier should never be used as a safety stairgate. A no-screw pet gate which pressure fits into the space may not be able to withstand the force of larger or energetic dogs so it is not a recommended solution where safety is of the essence. However, pressure fit gates can be used for restricted access as long as the dog's safety is not at risk.
A pressure mounted, no screw pet gate is a fast and easy solution to restricting dog access in your home. The Bonnie Pressure Fitted Pet Gate is a non-drill solution meaning no holes or permanency. You can move these gates about in your home or even take them on holiday, giving you a pet barrier wherever it is needed. This indoor pet barrier easily fits inside door openings, corridors, hallways or any other narrow passageways in your home that would be a natural place to install a barrier.
A stair gate should always be securely wall mounted (not pressure fitted). If you are looking for a pet gate for use on stairs, please carry on reading.
Wall Mounted Dog Gate
An excellent option for all dogs and all areas of your home, a wall mounted dog gate fixes securely to the walls via screws, creating a safe and secure barrier in a doorway or even as a stair dog gate.
Our popular Charlie Wall Mounted Dog Gate is screw fitted for security which means it can be used in halls, doorways and even as a stair gate too. It is also extra tall for escape artists. Woof!
As discussed, screw fixed gates are perfect for stairs as well as doorways. The mounts are screwed into the wall for a very secure fit. This makes them suitable for use not only in doorways but also at the top or bottom of stairs where, for safety reasons, it is recommended to use a wall-mounted gate rather than a pressure fitted one.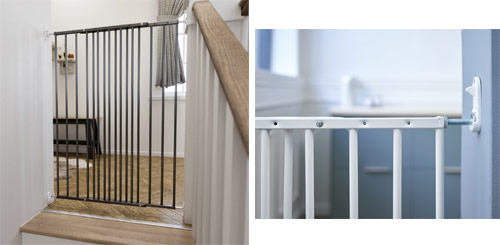 Dog Gate for Stairs
Stair gates should always be firmly and securely fixed to the wall. As mentioned above, pressure mounted pet gates are not suitable for use on stairs. Always purchase a wall mounted dog gate for use on the top or bottom of stairs. Pressure fitted gates are not strong or secure enough for stairs and they also have a bar running across the base when open. This is a dangerous trip hazard that you definitely don't want on a staircase.
Swing vs Retractable Dog Gate
Traditional dog gates swing open exactly like a gate, allowing humans to pass through with ease. Swinging dog gates are the most popular style you will see. Before you make your purchase make sure it opens easily for you but not your dog and preferably opens with one hand. It is also worth checking that it opens both ways.
Retractable pet barriers are an alternative to the standard swinging pet gate. They can be folded back when not in use, which can be handy. Their use should be limited though. They are not as sturdy and the design means that no one can come and go through it, unless you are tall enough to step over or you are happy to keep folding it back in order to pass through. However, a retractable dog gate like the Marley Retractable Puppy Gate can be a great solution for very small dogs or pups. This folding dog gate is solid in design so there is no chance of little dogs or pups squeezing through or getting stuck in railings.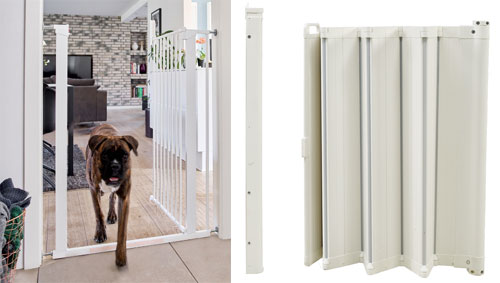 Extra Tall Dog Gate
Nothing is more annoying than buying and installing a dog gate only to find that your dog can simply jump over it or can scale it, which can be dangerous and potentially harmful to your pooch. A pet gate that is at least 40 inches tall is best for medium or large dogs or for small but jumpy pooches.
Need help?
We hope that has helped but if you need any further assistance choosing a suitable dog gate, just ask – we are always happy to help.
Want more?
Why not check out some of our other popular dog blog articles and/or subscribe to our newsletter. It is packed full of useful information, shiny new things and special offers. We make it easy for you to keep up to date. Woof!
Or if you fancy a bit of doggie shopping, check out our online dog product shop, from great gift ideas to toys and accessories. We are one of the UK's leading pet supply stores so you are always in great hands at D for Dog.