Christmas Puppies Smuggled from Eastern Europe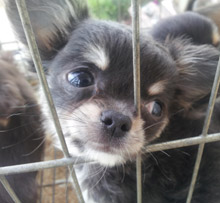 Today (14th November) marks the beginning of a surge in puppies being illegally imported into Great Britain from Eastern Europe in time for the Christmas puppy purchase rush.
A six month undercover investigation by Dogs Trust, the UK's largest dog welfare charity, reveals the high level of corruption at the heart of the puppy smuggling trade, plus the worrying welfare risks imposed on both dogs and humans alike.
Please share and beware.
Smuggled puppies sold as Christmas presents
Shocking investigative footage reveals criminal breeders, vets and transporters in Hungary and Lithuania abusing the Pet Travel Scheme with a lack of adequate enforcement and protocol by the relevant authorities. European vets have been caught on camera creating false pet passports and fake rabies vaccination records; the charity reveals underage puppies slipping through the net undeclared and lack of checks at ferry ports and borders, simplifying the smuggling process. With breeders making upwards of £100,000 a year from the sale of smuggled puppies, the trade is spiralling out of control with no deterrent.
Puppies bound for UK homes are suffering every day at the hands of the smuggling trade. They travel over a thousand miles, often in appalling conditions, and most importantly don't have the correct treatments or vaccinations, increasing the risk to British dog owners of serious disease including potentially a severely debilitating tapeworm and even rabies. This very real threat of the spread of disease cannot be ignored any longer.
Paula Boyden, Dogs Trust Veterinary Director, comments:

While "A dog is for life, not just for Christmas" remains our famous slogan, a puppy remains on the top of many wish lists. Unsuspecting British shoppers will continue to buy puppies online which may have been brought into the country illegally; meaning the risk of unknowingly bringing a puppy from Eastern Europe with diseases and behavioural problems into the home is very real.
The number of declared puppies entering Great Britain between 2011 and 2013 from Lithuania has increased by 780% and risen 663% from Hungary. This rise does not scratch the surface if you consider the number of puppies that are illegally smuggled and not accounted for in these figures.
Dogs Trust is urging anyone considering a puppy to stop and think,
"Where on earth is my dog coming from?"
Alarmingly, data collected by the Belgian Government over the course of five years showed the mortality rates of puppies imported into Belgium to be significantly higher than for dogs bred in Belgium. This demonstrates that smuggled puppies undoubtedly experience a traumatic start to life, which impacts on their health and can even cause death.
P&O Ferries is concerned that the Pet Passport Scheme is being abused by unscrupulous puppy traders.
A P&O spokesperson says, "Our staff are in an invidious situation as they see suspiciously high numbers of young dogs being presented for travel within the rules of the Scheme, with what appears to be the correct documentation. Dogs Trust has our support for its proposals to raise the age of dogs allowed to travel into the UK, backed by tougher penalties against those engaged in the illegal importation of puppies."
Paula Boyden adds: "Buyers must be vigilant, as a puppy brought in from Eastern Europe could cost far more than expected. Should a puppy be identified by your vet as an illegally landed foreign import, you could be faced with additional vet fees and have to pay for quarantine costs – we have seen first-hand dogs being abandoned for these reasons. The implications of the puppy smuggling trade goes beyond the huge welfare implications for the dogs, it affects unsuspecting members of the public too, local authorities and animal welfare charities who pick up the pieces."
Since sharing our damning evidence with Defra we understand they will be speaking with the relevant Lithuanian and Hungarian authorities about our findings. Whilst we welcome Defra's efforts to respond, this must not be a knee jerk reaction to Dogs Trust's report and can't stop here. We urge them to take a thorough look at all our urgent recommendations and respond with further action.
Dogs Trust is urgently calling on the Government to:
make the current checks that are conducted before allowing a pet to travel far more robust
actively encourage cross agency working and to develop an intelligence system to record and share data to better enforce compliance of PETS
bring the wait period post vaccination and quarantine for illegal (non-compliant) landings in line with the incubation period of rabies. A 3 month wait/quarantine would mean that the minimum age of entry would be 6 months, which would help to eliminate the trade as puppy buyers want younger dogs
introduce stricter fines and deterrents for those caught illegally bringing dogs into the UK
Dogs Trust investigation in numbers
Lithuania
Number of Lithuanian vets willing to and admitting to falsifying papers: 4 out of 5 met
Number of Lithuanian breeders and dealers who would or had sold under age puppies to the UK: 9 out of 11 met
Number of Lithuanian markets selling puppies visited: 2
Number of puppy transporters met: 2
Hungary
Number of Hungarian vets willing to and admitting to falsifying papers: 3 out of 3 met
Number of Hungarian breeders and dealers who would or had sold under age puppies to the UK: 6 out of 8 met
Number of puppy transporters met: 1