Don't Fuel The Cruel Puppy Trade
With just six weeks to go until Christmas, Dogs Trust are urging people not to fuel the cruel puppy trade by purchasing an illegally imported puppy. A record number of puppies have already been saved from devious smugglers in just one week as the sickening trade in puppies ramps up for the festive period.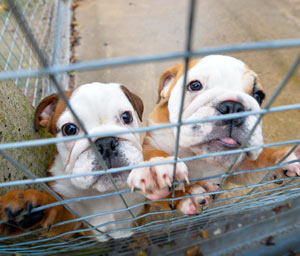 Importers continue to rake in huge profits every week at the expense of these poor pups and their mothers. More puppies have been seized than ever before as pups continue to be smuggled across the border to meet the Christmas rush. There is also a shocking new trend of pregnant bitches close to giving birth being illegally imported into the UK to meet demand.
Dogs Trust is issuing advice, warning people thinking of buying a puppy this Christmas to be vigilant.
The charity has produced some buyer advice to help people make sensible choices and avoid being tricked into buying puppies which have been illegally imported from Central and Eastern Europe. They hope this advice will equip people with the tools they need to make an informed decision when it comes to buying a puppy.
Do
Ask to see Mum and pup together
Visit your new pup more than once
Get all your pup's paperwork before going home
Walk away if you are at all unsure
Report suspicious sellers or breeders
Take your puppy to your own vet for a health check ASAP
Don't
Meet anywhere that isn't the pup's home
Buy a pup from anyone who supplies various breeds
Buy a pup that looks too young/small or underweight
Feel pressure to buy a puppy
Buy a pup that you suspect has been illegally imported
Buy a pup to 'save' it. You will simply be fueling the trade.
Paula Boyden, Veterinary Director for Dogs Trust said:
"Whilst many people's purchases may be well intended, unbeknown to them the internet has become a thriving marketplace for advertising illegally imported puppies. Buying an illegally imported puppy could potentially cost well-meaning but unsuspecting families thousands of pounds in quarantine and vet bills and emotional heartache for the family if the puppy falls ill or worse, dies."
The maximum sentence is currently just three months and with importers making tens of thousands of pounds a year, the penalties are not a strong enough deterrent.
Paula continues:
"Illegally importing puppies needs to end now. We urge the Government to improve this failing legislation. This includes increasing penalties for those illegally importing puppies and a significant overhaul of the pet checking system at ports."
To support Dogs Trust's campaign visit www.puppysmuggling.org.uk