Compulsory Dog Microchipping From 2016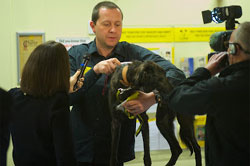 Environment Secretary Owen Paterson has announced that the microchipping of dogs in England will be compulsory from 6th April 2016, giving dog owners three years to comply to the new microchip requirement. From that date owners will need to have their dog microchipped and registered on one of the authorised commercial databases. Owners will have to register the details of any new owner before they sell or give the dog away. Any owner will have to keep their contact details up to date on the microchip databases.

After 6th April 2016, owners of dogs found by the police or local authorities not to have a microchip will have the benefits explained to them and be given a short period to comply with the microchipping law. If they do not, they will face a fine of up to £500.

Defra is working with database providers and microchip suppliers to ensure minimum standards of service for commercial databases and standards of microchips, and that there is updated implantation guidance and training available as well as a one-stop enquiry point for microchipped lost and found dogs.

The idea behind the move is to make tracing ownership easier, tackle the growing problem of strays, promote responsible dog ownership, improve animal welfare and reduce the burden on the taxpayer and welfare charities.

Figures from Defra state that each year more than 100,000 dogs are dumped or lost at a cost of £57 million to the taxpayer and welfare charities.
110,000 stray dogs are picked up by police, local authorities and animal welfare charities each year.
Over half (52%) of these stray dogs could not be rehomed because their owner could not be identified.
6,000 dogs are put down each year because their owner is unknown and they cannot be rehomed.
Environment Secretary Owen Paterson explains:
"It's ludicrous that in a nation of dog lovers, thousands of dogs are roaming the streets or stuck in kennels because the owner cannot be tracked down. I am determined to put an end to this and ease the pressure on charities and councils to find new homes for these dogs. Microchipping is a simple solution that gives peace of mind to owners. It makes it easier to get their pet back if it strays and easier to trace if it's stolen."
Compulsory microchipping is something Dogs Trust have long campaigned for and they are prepared to invest heavily in making microchips available for free for any dog in the UK. They believe that microchipping is the single most effective means of returning a dog to its owner.
"The compulsory permanent identification of all dogs means that more dogs found lost or straying can be returned to their owners and in a timelier manner. Local authorities were unable to return over half of stray dogs in 2010/11, a total of 65,612 dogs, because they were unidentifiable."
Dogs Trust CEO Clarissa Baldwin OBE explains:
"For many years Dogs Trust has led the campaign for the introduction of compulsory microchipping and we applaud the decision the Government has taken which represents a hugely significant and progressive breakthrough for dog welfare.
"As the UK's largest dog welfare charity, reducing the UK's stray dog population is at the very heart of what we do which is why we have committed a considerable amount of money to ensure no dog owners will lack the financial ability to microchip their dog. Currently, microchipping involves a minimal one-off cost, but the benefits last a life-time."
Dogs Trust are running a series of free weekend chipping events across the UK in March and April 2013, full details of which can be found on their web page of free microchipping events. The change of law applies to England only but Dogs Trust centres in Scotland and Wales will be taking part too.
Battersea Dogs and Cats Home have also announced that free microchipping will be offered at their centres and the Blue Cross will also offer free microchipping to dogs and cats across England. Beverley Cuddy, editor of Dogs Today magazine, said compulsory microchipping "is unlikely to make any difference", as the records are often inaccurate or incomplete. This is an important point to note. Microchipping as a means of identification can only work if the dog owner enters accurate information and keeps those details up to date. Once your dog is chipped or if your dog is already chipped please make sure you know how to keep the details up to date and that you actually do so. Cuddy also points out that currently the microchip does not count as proof of ownership, which needs to change.
Also, while Dogs Trust are happy with the new law, hoping it will reunite more lost dogs with their owners, they are keen to point out that they do not believe that compulsory microchipping will solve all dog-related problems. The new compulsory dog microchipping law has been introduced as part of a wider package of dog control measures for England which Dogs Trust does not believe go far enough to tackle the many issues surrounding irresponsible dog ownership, least of all dangerous dogs.
"Dogs Trust would like to see an end to breed specific legislation and we believe that until a fundamental overhaul of dog legislation is undertaken, including provisions for preventative measures, dog control problems in this country will remain."
In addition to compulsory microchipping, Owen Paterson will extend legal protection against dog attacks to cover incidents that occur on private property (homes, private gardens and land where dogs are allowed). This will close a loophole which has meant that previously dog owners whose animals have attacked people on private property were immune from prosecution. The move is designed to protect postmen, nurses and other workers whose jobs take them to other people's properties, as well as other visitors such as family members, particularly children. The Government said householders will be protected from prosecution if their dog attacks a burglar or trespasser on their land.
General Secretary Billy Hayes said:
"Extending the law to private property will bring protection to hundreds of thousands of people who work on private land, such as postal workers and telecom engineers, who were previously left with little recourse in law if they suffered a dog attack. Compulsory microchipping will help to link dogs with their owners, assisting dog attack victims in identifying owners as well as helping to reunite responsible owners with their pets."