Coping With Pet Loss & Grief
I have had the honour of spending my life surrounded by the love of various pets and animals over the years from chickens, rabbits and pigs to cats and dogs. But of course, with that love comes the inevitable loss when their lives come to an end.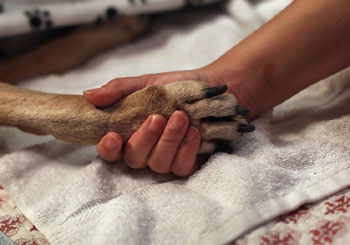 How we cope with each loss will vary from person to person and pet to pet. The first big loss in my early life was the family poodle, Rusty. It was a peaceful passing but still very shocking to my young mind that one minute he was alive and then he was gone forever.
I am in my 50s now, and I have sadly had to say goodbye to many doggies over the years. Each time I still feel the loss and the pain but I have also learnt how to accept the feelings I know are coming. I have learnt how to travel through the process of grief and the journey it takes us on.
Here are some of my thoughts on pet loss and grief. We are all very different but I hope this helps someone who is going through grief and the loss of a furry friend.
Family members
It is commonly said that losing a pet is like losing a member of the family. I would go even further and say that it is losing a member of the family. Our pets are family members, as valuable as anyone else in the family unit. In fact many of us spend more time with our pets than we spend with any other family member. Our bonds can therefore be incredibly strong and the loss of a pet can be just as devastating as the death of a human family member, if not more so.
If you feel the loss of a beloved pet keenly, maybe even more than the loss of a family member, don't feel ashamed or bad about this. There are no rules. I speak to many grief stricken dog lovers and many describe it as a more painful loss than anything they have experienced before.
Just get another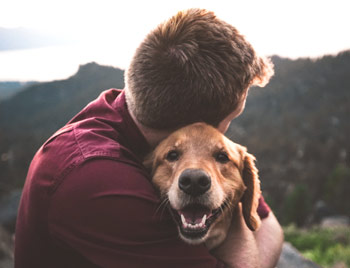 Whilst fellow animal lovers will understand the loss of a pet, many other people may not. Don't be surprised to receive unhelpful comments like "Just get another one". People aren't trying to be unkind or dismissive - they simply don't understand. Talking to other pet owners can be really helpful as they will understand how you are feeling in a way that no one else can.
Is it essentially good advice though? Does getting another dog help? Yes and no. You need to be sure that you are really ready and not just trying to use another dog as a sticking plaster over the pain. If you are still in the early stages of grief, it can be hard to let go and fully love another dog, no matter how much you think you want to. If you take on another dog too soon, you risk feeling resentful, guilty and many other unpleasant feelings. Once you are ready though, another doggie can be a truly wonderful blessing – a place to put all your feelings of love and affection.
Don't feel guilty about getting another dog when the time is right. Many people worry that they are replacing their dog or that their dog would be unhappy or feel forgotten. No, absolutely not. These kind of feelings can be grief talking so if you feel this way, give yourself a bit more time.
Feelings around this issue will always be complicated. Getting another dog should be a joyous time and when you are ready it will feel right. Or, while you are healing and deciding what to do next, you may choose to fill that dog-shaped hole in your life by dog walking or pet sitting for friends, volunteering at your local a rescue centre and so on.
Grief following euthanasia
An additional complication with the death of a pet is when their life ends via euthanasia. This adds an extra dimension to the grief – guilt. Was it too early, was it too late, did they suffer, do they know how loved they were? Euthanasia is a caring end to a wonderful life and often the kindest thing to do, yet we can feel so guilty about it. This added pressure at the end of a pet's life can be an incredible burden for us to carry.
It is natural to worry after euthanasia. It is a big responsibility and we can find ourselves second guessing our decision. Remember though that you did what you did because it was the right thing to do.
Grief about timing
One of my friends had terrible thoughts after her pet's euthanasia. Even though her dog was unwell and she knew it was the kindest thing to do, after her dog was put to sleep she was eaten up with worries of having done the wrong thing. In cases like this, remember than you didn't act alone. No vet would agree to put a dog to sleep for no good reason. If the vet performed the euthanasia, that means they agreed that it was the right time for that end of life decision to be made.
Thank you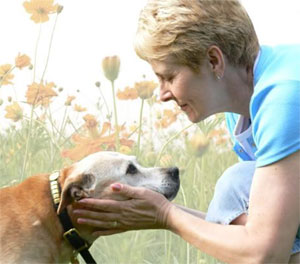 If you are feeling any guilt over the timing or method of your pet's passing, always remember that you did what you did for the best. Your beloved pet won't be wondering if you really loved them enough - they will be thanking you for the courage you showed, for putting their needs first and for caring enough to help them when they needed you.
They would say "Thank you for having the love and courage to do that for me."
Smile and remember
When it comes to loss there are two common ways to approach it. Some people surrender themselves totally to the grief and become consumed, almost to the point of making themselves ill. Others shut the grief out completely, as if the death didn't happen.
Neither approach is particularly healthy or helpful in the short or long run. Something in between these two approaches is going to help you the most. Crying and facing your grief is really important, so don't fight back the thoughts and the tears. But as the days pass, try to put a limit on it. Have a good cry and then make a conscious effort to smile and remember too.
You spent so many happy times with your pet. Don't let them be defined by their final moment. It sounds corny but it is very important to remember the good times. Your pet wouldn't want to see you so distressed. Looking at photos, watching videos and talking about all those fun times are great healers, when you are ready.
Stay busy
The old adage of keeping busy really does help. Throw yourself into work or even better a fun or creative new project or a big job that you have been putting off. The occupied mind doesn't dwell. Just be sure not to completely block out your feelings of grief. Stay busy but don't use work or a project as a way of blocking out important feelings.
Everyone is different, so find what works for you. When one of my dogs died recently, I bought some lovely paint and repainted all the internal doors in our house. It gave me something to do and I found the activity of painting rather soothing.
Pet memorials
With all my dogs, I really like to go through their photos and put something together that I know I will enjoy looking at. I also find comfort in keepsakes featuring their name, photo, paw print and so on. I had one of my dog's paw prints made into a gorgeous silver charm, another dog's photo I had made into a 3D photo cube and so on. I don't like to rush this process and can easily spend hours browsing for pet memorials and keepsakes.
Your pet's belongings
One final aspect of death is dealing with your pet's belongings. Don't rush to do this. When done at the right time it can be a great healer but if done too soon it can lead to regrets. When you feel ready, calm and accepting, go through your pet's belongings and decide what to keep. It is nice to keep a few items that make you smile like a favourite jumper or beloved toy.
Don't be in a rush to sort through your pet's belongings at the peak of your grief because you may regret it later. Keeping something with their name on, something they loved or wore or something that smells of them can be very therapeutic.
Nothing lasts forever
As a very wise man once said, the only drawback with pets is that they don't live as long as us. This is sadly very true. But as short as their lives are, it is amazing the massive impact they leave behind.
After the loss last year of our little terrier I cried to my husband that I would never do it again. He reminded me though that it is worth all the pain. Holidays don't last forever but we still go on them. Very true. Even though it is hard when something ends, never forget that happiness was created, love was shared and memories last forever.
I do hope this has helped. If you are grieving, please take care of yourself and know that you are not alone. And to all our doggies who have passed away – Run free!
By Jenny Prevel
© D for Dog www.dfordog.co.uk
This article belongs strictly to D for Dog and we do not authorise the copying of all or any part of it.