Puppy Cowboy Traders Channel 5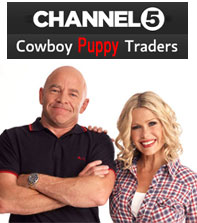 In August last year we had permission from Channel 5 to spread the word about an episode of Cowboy Traders they were planning to make that would feature the puppy farming trade and backyard breeders. All you lovely dog lovers did a fantastic job spreading the word so that establishments could be flagged up for the show. In fact we all did such a good job, Channel 5 contacted us again a few weeks later asking us to remove the info as the planned covert operation was becoming far too public.

That was the last we heard... until now.

They've targeted the bad builders – now it's time to round up the rest of the cowboys. Following the huge success of Cowboy Builders, Dom Littlewood and Melinda Messenger will be joining forces, turning their attentions to cowboy traders once again in a second series of the popular prime-time consumer series Cowboy Traders.

Cowboy Traders has seen Dom and Melinda turning their attentions to rogues in other industries, with dodgy car dealers, dishonest landlords and unscrupulous bridal shop owners all on their hit list.

Each hour-long episode features families who've suffered at the hands of an unreliable trader. Dom uses his trademark blend of detective work, investigative journalism and undercover filming to expose the perpetrators, while Melissa helps the unfortunate victims of the scams.

Series 2 will include an episode about the trade in puppies. Dom and Melinda investigate a West Sussex puppy trader. The episode will be shown this Thursday, 20th June 2013 at 8pm on Channel 5.

Series 2 - Episode 1: Puppies | Cowboy Traders

A puppy trader has been selling sick puppies to unsuspecting pet-lovers. Dom and Melinda meet two families left brokenhearted after their new puppies died days after purchase. The team goes undercover to expose the seller and ends up rescuing two dangerously ill puppies in the process. While Melinda attempts to get them nursed back to health and rehomed, Dom meets an ex-employee who is keen to blow the lid on the whole operation.