Cute Puppy Misa Minnie Does Tricks Video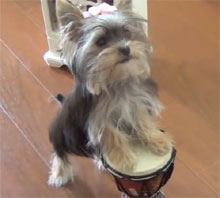 How cute and clever is this little Yorkshire Terrier puppy, Misa Minnie. Scroll down to see her video of tricks. Just adorable. Such wonderful tricks and all done with joy. Lovely to see.
Yep, we think she may well be the worlds smartest puppy, at just 7 months old in this video. But hats off as well to her talented owner who has home trained her little dog.
How does she do it? "Just lots of practice and patience" she says. "It's just a matter of finding what works for your dog and having fun."
Misa's owner has uploaded lots of other videos of her puppy at various ages. They are all delightful to watch. You can subscribe to her MeSoMiniMisa Youtube channel here.