D for Dog Coronavirus (COVID-19) Update
4 Comments
Tuesday, 14 April 2020 |
D for Dog
Dear lovely dog owners and friends of the furry four legged, we hope you are all staying safe and well in these difficult times.
We wanted to say that we remain open for all online purchases and are doing so in a safe and responsible way. So if you need any dog accessories or products, you can still make your online orders with D for Dog. Our online chat service and phone line is still manned as well, so any questions at all, feel free to ask.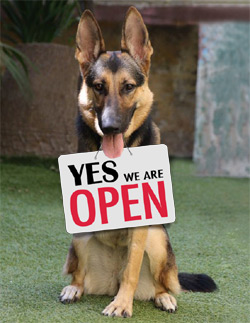 Online shopping for dog products
Apart from a very small sub-section of specialist handmade items, all our lovely and useful dog products are still available to purchase online and are still being delivered, so please shop with confidence as always. If anything changes with regards product availability or delivery, we will let you know, but at the moment it is pretty much business as usual, with extra safety measures in place by us to keep everyone safe.
We are always flexible on our return and exchange policy with regards return time frames so you can continue to shop in the knowledge that it is OK if you cannot get to the post office within the usual 2 week time frame for returns and exchanges. No problem.
Gifts for dogs and dog lovers
If you need to buy a gift for a dog lover but that is difficult with shops closed, why not consider one of our online gift evouchers. They are processed online and sent via email, so it is a quick and safe way to get a gift to any dog lover in your life. The recipient can then come online and spend their voucher on anything they would like. Woof!
Find out more here Gift Vouchers.
Of course, you can also buy anything from D for Dog and have it sent directly to the recipient. Simply enter a different delivery address at checkout in order to send a doggie related gift directly to a dog or dog lover.
Information, advice and funnies
If you find yourself with more reading time on your hands, take a look at out blog, which has 15 years of dog related advice and articles you may find useful and also funnies you may enjoy.
You can find our blog here Dog Blog.
Social isolation
Whether we like it or not, we are all experiencing social isolation but at least we have our furry pals with us. At the moment we are allowed to walk our dogs, as long as we keep a safe distance from others, so you can still enjoy some healthy and safe walks with your dog. And as many of us will be stuck at home more than usual, why not take this opportunity to spend more quality time with your dog and maybe play some new games or teach them some fun tricks. Dogs love brain games and learning. If you are stuck for ideas, you may get some inspiration from our Cheap Homemade Dog Toys and Games blog.
OK folks, that's all for now. If anything changes, we will of course update this blog. You can also follow us on Facebook for updates plus we are on Instagram, Twitter and so on.
Stay safe, enjoy some extra time with your furry pals and we will update you if anything changes here.
Virtual hugs from the D for Dog team x
Update: 25th March - Some of our off-the-shelf items are now being dispatched every other day, to reduce post office runs. This does not affect medical suits/sleeves/items which are still going out at 3pm every day as usual via a daily Royal Mail pick up service.
Update: 31st March - Royal Mail and some courier services, although still running, do appear to be a little slower than usual so please be patient, thank you.
Update: 6th April - Unfortunately, due to a lack of availability of the wood needed, the production of the wooden feeders, toy boxes and rustic beds has been suspended. The wood is currently needed for more important projects. You can still place an order for one of these items but production will not begin until the wood is available again.
Update: 13th April - Some of the garments used to make the t-shirts for human wear are now out of stock. With the garment supplier currently closed, we are unable to get more at this time. The printers are still open and can print any slogan but only on a limited number of colours/sizes.
Update: 14th April - Due to the temporary closedown of the fibre factory, the production of all P&L pet beds and mats has been suspended. You can still place an order but production will not begin again until the fibre factory has reopened, which is expected to be in approx. 4 weeks (as a rough estimate).
Update: 1st May - We have been told that the materials needed for the production of the wooden feeders, toy boxes and rustic beds should hopefully be available again by mid-end May.
Update: 10th May - Most of the garments used to make the t-shirts for human wear are available again.
Update: 14th May - The materials needed for the production of the wooden feeders, toy boxes and rustic beds are now available and production has recommenced but please allow a little extra time while the backlog of orders is cleared, thank you.
Update: 15th May - The production of all P&L pet beds and mats will begin again next week.
Update: 18th May - Please note that Royal Mail are continuing to struggle with demand at the moment and many parcel deliveries are delayed as a result. Some parcels are arriving in the usual time frame while others are taking over a week. Please only contact us if your parcel is delayed by over 2 weeks and you are worried that it may be lost. Thank you.
Update: 1st June - A number of couriers (DPD, Parcelforce etc...) are short of drivers needed to cope with the current high demand. So although we are arranging pickups of parcels, they are not necessarily being picked up by the couriers on the days we request/state. Please bear this in mind if you check your tracking and see a delay or no movement of your parcel. These are temporary courier delays. Thank you.
Any products affected by the current situation are clearly marked as affected on the product page in question, but if you are unsure, just ask.