Stories from Deaf Dog Owners
Valuable advice and reassurance can often be gained by talking to other deaf dog owners. Here we offer the chance for those who share their lives with deaf dogs to tell their story and hopefully be an inspiration to others who also have a deaf dog or who are considering taking on one of these worthy companions.
Use the form at the bottom of this page to send us your experiences of living with a deaf dog.
I'll start with my own deaf dog story and hope you enjoy it. Written and posted 11 years ago when I first started D for Dog, so it's somewhat dated as Berkeley is now an old chap but still the light of my life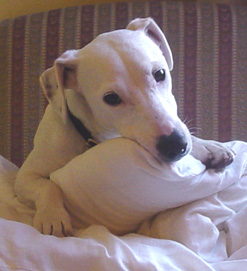 In April 2003 we adopted a 7 year old Bedlington Terrier from a rescue home in Kent. He settled in well so a year later we decided to adopt a companion for him. I went to the Dog's Trust website and came across a dog called Babe - a 4 year old terrier. He was born on a farm in Norfolk but had lived most of my life at the Dog's Trust Snetterton after being handed in when he was still a young pup. He stood out due to his pure white fur and his cheeky little face. Babe's notes explained that he was deaf and that previous re-homing attempts had been unsuccessful.
I did some research into deaf dogs to get an idea of the issues that deaf dogs and their owners face. I was saddened to read about all the deaf dogs that are not even given a chance in life. The Dog's Trust tell you as much about the dog's history as possible and the dogs are checked by the vet and vaccinated, neutered, wormed and micro-chipped. Our first walk with Babe was a bit nerve-wracking. His energy and excitement were off the scale. The Dogs Trust also make sure that all members of the family meet the new dog, including the family pets. We booked a re-visit and luckily Babe and Boycie got on OK.
A home visit was arranged. They check that your garden is enclosed and that your fences are of the required height, which varies from dog to dog. As Babe could jump 4 foot, we were advised that our fences would need to be a minimum of 5 foot high. Our home visit went well and Babe could come home with us, on a trial basis to begin with because of his previously unsuccessful re-homing attempts.
I won't look back with rose coloured glasses - those first few months were hard. Sometimes I felt that Babe would never walk nicely on lead or be able to be left in the house alone. He also chased cars, barked at everything, would snap at your fingers to get his toys, flew at the windows trying to see out, jumped onto furniture and was generally a real bull in a china shop. But Babe on your lap in the evening was a real joy - affectionate, quiet and cuddly - a real poppet.
Boycie was thrilled to have a new friend and they started the process of getting to know each other. It can take about 6-9 months for a re-homed dog to adjust to their new situation. To communicate with Babe, we decided on some hand signs we wanted to use and stuck them on the fridge door. We began to use the signs during our day to day activities and were amazed at how quickly he picked them up. In the first month he learnt the meaning of 8 different signs.
After Babe's extended trial with us, we went back to the Dogs Trust to sign the adoption paperwork. The staff were all so kind and came out to say goodbye to him. Babe was ours. We decided to rename him Berkeley.
Berkeley is such a trusting and intelligent little dog. He learns very quickly - his on lead behaviour is much improved, he no longer chases cars, he goes off lead at the park, plays great games with Boycie, tries very hard not to bark all the time and accepts that sometimes you do have to go out without him.
So what is it like to live with a deaf dog? It's not really as different as you might think. All dog care and training takes time and patience, whether your dog can hear or not. As far as training goes, dogs often use body language as a cue anyway. Even our hearing dog Boycie has picked up some of the signs and responds to them.
I won't pretend that Berkeley could now win awards for good behaviour. He has had a tough first 4 years of life. He might always get over excited at every little thing, greet us with Zebedee impressions, bark at aeroplanes and wake us up in the middle of the night for a game of ball - that's his nature - that's what makes him special - that's what makes him our boy.
Jenny - London, UK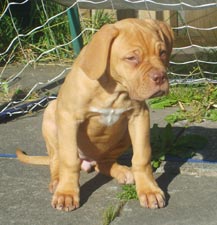 We have a gorgeous Dogue de Bordeaux called Honey and as I am now addicted to the breed I decided to get another one. And so Little Ezri arrive home with us on 8th September at 9 weeks old.
We put her quiet behavior and unresponsiveness to our calls down to everything being new and frightening. As the next few weeks passed our little Ezri had come out of her shell and was now playing and running around with Honey, but was still being unresponsive to our calls unless Honey came too.
We put this down to her just being a typical defiant menace of a puppy. It wasn't until she started her puppy good citizen classes at 14 weeks old did we start to question her hearing, especially at the 2nd class (2 weeks ago) when she didn't come back to us at her 1st recall, in fact it was like she completely ignored us.
After this class we did a few simple tests at home (with Honey out of the room) and discovered that she couldn't hear a thing. We even squeaked the noisiest squeaky toy we had right behind her head, and blew dog whistles at all frequencies but nothing. A few days later the vet confirmed that our little Ezri was deaf.
We have been asked if want to take Ezri to have BAER testing done, although I don't think it will tell us anything that we do not already know. She is doing so well now. We bang on the floor to get her attention (it's amazing how she seems to feel even the tiniest of vibrations, and responding really well with the hand signals and in fact at her last puppy class we came 2nd in the fastest sit competition.
We are so proud of our little Ezri and she is learning more and more as the days go by. It is amazing to watch. If you didn't know better you wouldn't even know she was deaf. She is our little wonder.
Elaina Letford - Striling, Scotland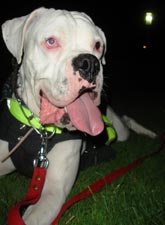 My dog was on a pet site for adoption. I was thinking what dog breeder to choose in order to buy my next dog, when a friend sent by mail the link of a dog to adopt that made her remember me. My sister, who was spending holidays with me, went crazy! Talking to the owner we found out that he was at home because he had return for the 5th time from 5 different families, but he was going to another home in that same day. The owner said that he was completely deaf. I didn't mind, but she had already committed to the other family. Three days later she called saying the dog was going home again. In the same minute my sister went to her home, waited for the dog and brought him to my home.
He is a male dog and when he came he was 11 months, was a bit scared, depressed and skinny. I must say that I had never met a deaf dog before and I was amazed with his communication skills. He communicates like any other dog. I have met dogs without any problem with lack of communication so I was expecting something almost like an autistic communication. Nothing could be more far from the truth. I went to the vet immediately and he confirmed that he was 100% deaf.
I have worked a lot to make him happy, secure, fat and comfortable, so I'm just starting now (2 months later) with obedience classes. Of course that in spite of my all day talk (I'm always talking to him as he if he could hear me), he doesn't answer as a 'normal' dog to all the sounds but yes, he is sensitive to the vibration. He communicates with everybody, dog or person. Most people don't even notice that he is deaf.
Even on training, I just have to work more than with other dogs on rewarding him (he doesn't always like food) or in showing him I'm not happy because instead of a "good, well done" or "no, bad boy" I have to do a lot of other things to show him what I feel about that action without hitting. Sometimes the time is not the right one and it is slowing a bit the learning process, but nothing to worry.
I always thought that a deaf dog was a very special dog with very very very special needs (almost autistic), but this experience has been showing me that's not a rule or necessary true. In my case, it's almost a joke (even playing with other dogs on the garden, he comes when I call (by signal when he looks at me - and he looks at me frequently) easily than some other dogs. I wouldn't walk with him on the street without a leash even if he could hear properly, so I don't have that problem.
I must say that my dog's deafness is not a problem neither for me, or for my family or friends. Even today I have been in an initial dog's obedience class with him, and again he acted as a normal 'stubborn' dog learning a new position. However, I must say that in spite all good experiences, I also believe that a deaf dog is not recommended for everybody, even with a large experience on dogs as pets due to the communication field (some people just can't match the real life of a deaf dog with the ideal dog pet life) and social responsibility, for example, (in a fight situation I don't have any problem to interfere, but not everybody feels comfortable doing it) twice I had to interfere with two dogs that ignored the owner in order to attack my dog. With a deaf dog we can't expect him to respond to us when not looking at us, even if he just wants to play not fight.
To have a deaf dog also means to have more attention to what surrounds us in order to protect him from all kinds of attacks or problem situations (balls, dogs, cars, adults/children approaching from behind, adults/children approaching when our dog is sleeping near us while we are having lunch in a calm beach restaurant or garden, etc). I never thought that a deaf dog could be so present and interactive has he can be. It is a very good surprise and in a few time, an experience that changed my life.
Sara - Portugal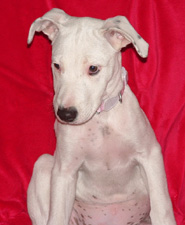 My husband, 2 children (3 1/2 & 6), and I were at a local pet store during adoption times with the thought of purchasing a new toy for our 5 year old border collie/beagle mix when we saw Molly. She was just a sweet as could be and we knew right away she was for us. Molly is an 11 week old Dalmatian/Lab mix. We have only had her for a week, but I quickly realized she was not reacting to our voices or toys that made sounds. Jokingly I told my husband that I thought she was deaf, but as it turns out I was right. I took her to the vet for her booster shots and the vet confirmed it. I am now on the search for any information to make her life with us more comfortable. I can't wait to get started.
Nicole DeRenzy - Canton, Illinois, US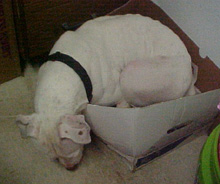 I rescued my Pit Bull "Asa" from the animal control facility that I was an Officer at about 9 months ago. She was found stray, running through a neighborhood. The caller described to dispatch that she was a "vicious looking pit bull", so we (my partner and I) loaded up in out trucks and headed out to find this "aggressive" dog. All the way there we are preparing ourselves for a chase and making sure we had a plan in place if this dog was indeed a dangerous dog.
We arrive on scene to find a beautiful white pit bull laying in the front of someone's yard. We called her over and she promptly came running to us with her tail wagging. My partner and I laughed at how "vicious" this stray dog was acting.
Asa stayed at our shelter for about 3 months before I made the decision to take her home. The first couple weeks she was there, she seemed very relaxed in her kennel. I would walk the kennel in the afternoons and find her fast asleep while the other dogs barked and howled. It was only after seeing this several times that I decided to test her and find out for sure that she was deaf. I took her out side in our "meet and greet" pen and let her run around. I whistled and clapped and yelled to her and the only reactions I got was a quick head turn in the opposite direction from me every once in a while. After that, she absolutely intrigued me. I couldn't stop thinking about her and the possibilities in training. I'm an avid dog trainer in my spare time. I turned many strays into adoptable pets at my kennel and I had the same plans for her. I knew that her adoption chances were slim because she was a Pit and even more slim since she was deaf and had ZERO manners! So I started my quest to train her.....having NEVER trained a deaf animal in my life!
I started just in her kennel working on sit and down using treats and signs. She was catching on....but I couldn't get "stay"....she was way too wiggly! After several weeks of working with her I decided to take her home with me and test her out in the home setting. IT WAS HORRIBLE!!!!!! She has separation anxiety....HORRIBLY BAD!! I could walk outside for just a few minutes to check the mail and she would've already torn down he blinds trying to find me! I was surprised but wasn't upset.....those were messed up blinds anyways. My 8 month old Dane had already gotten hold of them before her....she just finished his job. So immediately it was crate training time, but that didn't go so well....after she broke her way through 2 metal crates I decided I needed a professional! I called up a dog trainer buddy of mine who specializes in shock collar training. He trains Austin Police Dept.'s K9s as well as uses his own Narcotics/Protection dog for a security company. We talked over the phone and decided that the shock collar might be a great tool in her training. He came over and I showed him the most recent damages to the cages...and herself, then we started training. With in an hour we had her in a sit stay. I could walk upstairs without a shadow. I could walk outside and get the mail without coming home to a destroyed house. It was great!! After that session I became a believer in shock collars!!
She is so well behaved now. I can take her to the lake to go swimming and let her off leash. If she roams too far, I simply press the "page" button on the remote and it vibrates, telling her to come back. I can take her out in my front yard off leash AND off shock collar and she keeps her eye on me, never leaving the property line....not even to go visit the neighbors!
I recently moved in with my boyfriend and his roommates. We have a total of six dogs in our house. Our three and our roommates' three. With this many dogs here, Asa is so comfortable that I don't crate her anymore. She is left in the bedroom with "Doobie" (rottie-pit mix) and "Lucy" (lab mix) and I never worry about what is going to be torn up or ruined. I do come home from time to time to a room that has been torn apart....pillows on the floor, comforter on the floor, dog beds upside down, clean laundry knocked out of chairs, simply because Asa and Doobie LOVE to wrestle in the bed.
This has been the greatest adoption experience and it has truly been a learning experience...and still is! I've never had this amount of trust and connection with any other adopted pet. She's my comfort when I'm alone during the week and my boyfriend is on base 4 hrs north of me and my car buddy when I need to drive somewhere.
I encourage people to take on the challenges of owning a deaf dog. It's one of the most rewarding experiences in dog ownership. I know it's not for everyone and you definitely need to be strong, yet always show them love and reassurance. You won't be disappointed!
Kelly - Cedar Park, TX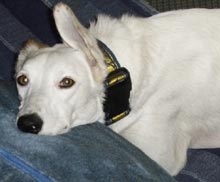 Mitzy came to us as a foster. She had a reputation of being uncontrollable, very bouncy and not good with cats, children or other dogs, that she barked at everything and suffered severe separation anxiety. She was originally looking for a home without rescue back up, so I asked my local rescue to take her on and she came to us.
We soon discovered she had a few food allergies and once on a new diet her temperament and boingyness soon settled. She was fascinated with the cats and tried to "herd" them all up together but never nipped or barked at them. Her separation anxiety was extreme. If anything came between her and her people she would bark and howl and work her self up into a frenzy of panting and yapping. If she awoke and couldn't find you she would begin barking on the spot and the frenzy would begin again. She was very jumpy and would spin on the spot if you stroked or tried to groom her. She wouldn't allow you to touch her feet or face and walking was a complete nightmare.
We enlisted the help of a TTouch specialist who came and spent the day with us and Mitzy, teaching us calming touches and eventually building up to touch the parts Mitzy was uncomfortable with. Mitzy soon found the TTouch very calming and fell asleep standing upright a couple of times. She began trusting us more with each session and soon we could touch, stroke and examine any part of her body and she enjoyed it. It helped us all to bond with her too and there was a noticeable difference in her behaviour afterwards. Her hand signals seemed to fall into place - it was as if we had been accepted at club Mitzy. It didnt take long after that to realise we couldn't part with her and she officially became a permanent member in our home.
She has progressed to be able to be let off lead and her separation anxiety now allows us to go out with no worries or barks. She loves her toys, her favourite game is fetch. She is also a dab hand with a frisbee and competes in disk dog events across the country.
She welcomes any new foster dogs into her home with no problems and sleeps on the bed of my youngest son, usually sharing it with one of the cats. She's a real treasure that I cant imagine life with out.
Raiye - Wigan, Lancashire, UK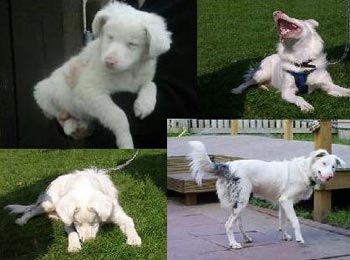 Teija means 'Gift of God'. A pup destined not to survive even before she was born.
We'd made token efforts to find a new pup. Well, actually we'd done almost nothing. All the common excuses were being used and expertly re-used so you can imagine my surprise when the advert on Many Tears Rescue site jumped off the page and lodged itself securely in the bit of my heart that had been excused common sense duty.
Born deaf and blind a tiny eight-week-old white Border collie pup, a sad project. The rescue were asking people not to "write her off" or have her "put-to-sleep" as she could have quite a "good life with help". She needed someone special. Hats-off to those who take-on disabled animals but this was not something I could ever do - or so I thought!
She is what's called a 'Lethal White'. The term is used to describe a Border Collie merle-to-merle bred pup that is born with two merle genes. There is a trend towards breeding a pedigree pure white collie but this throws up life threatening birth deformities and the term also alludes to the fate of death that usually befalls most of them if they do survive. Only perfection sells the rest are disposable. They are also known as double-merles or homozygous (but I can't even pronounce that).
Touch is our way of communicating and through trial and error we have developed a language so vast that there are now so many signs that they get lost in everyday life. Her disability is just a label. She doesn't know she is different and a lot of the time neither does anyone else. Obedience and good manners are important for every dog and just so for Teija. She is now well socialized with people and other dogs and has learnt to sit, stay, lie down etc. and is starting her Good Citizen Award soon. She does tricks, gives her paw and loads more including beg and fetch (not the usual fast game for us as sniffing things out takes a bit of time but when she finds it she brings it straight back, I just have to remember not to move). She is a normal little hooligan who gets up to all sorts of mischief, beware the collie with nothing to do they all need to be occupied and Teija is never happier than when learning new things or getting into mischief.
Heat winner - 2007 RSPCA Rescue Dog of the Year - so keep a look out for the regional voting later this year.
Living with Teija is just second nature to me now and I know that some people think that it must be hard work but it's not - it is just different. One thing I have had to come to terms with is that there are still people that call me cruel and self indulgent or wicked for 'putting her through this kind of life' and tell me I should have let her be put to sleep but she is a very happy, well adjusted, healthy little dog who loves life so much - everyone who has met her will tell you the same.
This is the very start of our story. Teija has now joined Springer agility team. She will never compete in the speed stuff but as in everything we set our own path. She loves every minute of it and yes she does jump!
Our world is far from perfect but mans cruelty and exploitation for personal greed (or in some cases the ignorance of the consequences) towards animals leaves me speechless. These types of pups should not be born but now she is here I feel privileged to be the one chosen to share her life. I am so proud of her.
Lee - Huddersfield, UK

We literally just got our mini goldendoodle 3 days ago. He is the most loving, adorable little guy. We marveled at how quickly he got the potty routine down. But my husband and I noticed that he wasn't responding to any sounds.
We thought he was just a really chill puppy but then it dawned on us. We just had him checked out today and he is deaf. We are just starting our journey, any tips are helpful. We love him even more now! He is the best hearing or none!!!!
Jamie and Josh - Los Angeles, Ca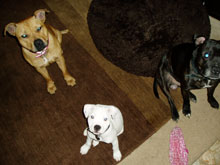 Dollie is the 3rd Staffordshire Bullterrier to join our family. We got her at 7 wks old and had no idea she was deaf. We began to realise that maybe there was a problem when she was about 9 wks old. Dollie didn't respond when we called her or when we came in the front door she would stay sound asleep snoring like a trooper despite lots of noise around her, having 2 other dogs it was difficult to know if she was just following their reactions when called, and of course she was.
Dollie is extremely vocal compared to the other 2 who hardley make a sound. But as soon as she claps eyes on you she goes quiet. We always let Dollie know if we are leaving the room and she hasn't seen us, so she can follow if she wishes. Nutmeg the middle of our 3 dogs has built up a strong bond with Dollie and almost acts like Dollies ears, if we call Dollie (waving) at her and saying her name and she does'nt respond Meg will roll Dollie over to see us. They are for the most inseperable. Dollie is so loving and gentle and will do anything for a hug. We are slowly learning to sign with Dollie and although it is slow progress im sure we will get there in the end. She is a very important family member as are our other 2 who are all spoilt rotten by our children.
Mrs R Walton - Leicestershire, UK
We got our deaf dog Missy from an adoption Agency. I had lost my beloved Beagle the year before and was ready to get another dog. we thought we would get one through a dogs home. When we first saw Missy we knew she was the one we wanted she took to my husband like non we had before. She was 8months old no one wanted a deaf dog we fell in love with her. We have had her now for almost 2 years she is great with her signs, she is just like a normal dog, doesn't hardly ever bark and is very playful with our grandchildren, she loves her walkies and is always near us wherever we are. We would not be without her now. I would advise anyone to get a deaf dog now after having our MISSY she is one loved doggy by all that meet her.
Margaret - Australia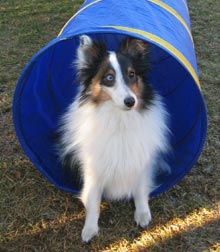 My little 13", 11.5 pound deaf Sheltie, Tug, is an awesome competition dog and has the sweetest Sheltie temperament. Tug is a blue merle and is currently 2 1/2 years old, he came to live with us at the age of almost 7 months. Tug makes his home with my 4 other hearing Shelties that range in age from 6 years old to 14 months old. Because Tug has such drive and eagerness to please I decided to train him also in obedience and agility. This little speed demon earned his CKC Novice Obedience title in one weekend of trialing with scores ranging from 188 to 193.5 at the age of 2 years old and earned his CKC Novice Agility title in one weekend of trialing at the tender age of 19 months old.
Tug is a complete joy to live with and only barks when he is super excited, like suppertime and greeting me when I come home from work. He also has a funny side, he likes to nibble on my heels when he gets really excited running around playing in the yard (this is just a herding dog thing) and even thought he is an agility dog used to climbing and jumping he will not jump from a chair, sofa or bed. I put him on the chair when I train my other dogs and he just stays there and watches us!
Anja - Edmonton, Alberta, Canada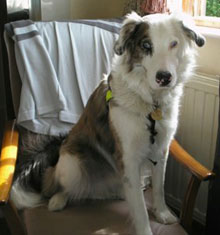 I have a collie cross, he was abandon at 5 weeks old so Bridgend Dogs Trust took him in, they had to hand rear him as he was still to young to fend for himself. He was found in a cardboard box. He was rehomed 3 - 4 times before I had him.
He is a very intelligent dog, his name is Jasper. I take him Dog obiendance training classes once a week, in the first year he gained the Star Dog of The Year, we had a trophy to keep for a year, then last year he gained the Progress Award which is a shield with his name on, we keep that for a year. He is a registered Pat Dog, we go visiting Nursing Homes, Hosptials, a Special Needs School, and a Day Centre.
Recently we had to go to Earls Court for the Discover Dogs as I entered him in a competion run by the Kennel club - Companion Dog Club, I entered him for the best rescue dog, we got to the final nine, which is a marvellous achievement.
He is loved by everyone who meets him and makes lots of people smile. He is spoilt, he loves to play ball and also likes to play shadows.
Sandra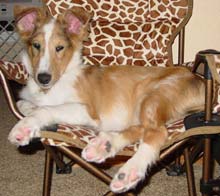 I have a deaf Sheltie (Shetland Sheepdog) puppy name Domino whose deafness we discovered shortly after we brought him home from the breeder. The breeder had no idea of his deafness and just thought Domino had selective hearing.
Shelties are very low on the list of breeds prone to congenital deafness and it usually only occurs in Shelties that are predominately white with blue eyes. Domino is a sable merle with brown eyes (his mom is a sable merle and his dad is a dark shaded sable & white) so we can only assume that it was the merle gene responsible even though it was not a merle to merle breeding. This is rare but it does happen. Domino is a very happy and active puppy despite his handicap! He has no idea he is any different from any other dog and there is never a dull moment in our house since he has arrived!
He is very outgoing for a Sheltie and although he is a little shy of strangers outside the home he greets all visitors as if they came to see only him!
He trains more easily than some of my previous hearing dogs and is so eager to please. He knows numerous hand signals and was housebroken by the time he was 4 months old! He walks beautifully on leash since he is not easily distracted by barking dogs or traffic noise. The hardest thing to teach him was not to play bite humans. Since he did not learn this with his littermates because he couldn't hear them cry out in pain when he got too rough. He would bite us to the point of drawing blood sometimes. To correct this we would blow on his face really hard and this worked! I don't know if it was the air or the bad breath but it worked and he is much better now!
It's very time consuming to train a deaf dog but it is also very rewarding. Anyone considering it should make sure they have the time and energy to spend with their dog. It takes LOTS of patience. Do some research and learn different training techniques and find out which ones will work for your dog. The hardest thing for me is to be consistant with hand signals and to use them often throughout the day because it can be easy to forget they can't hear you.
Domino is now 5 months old and is growing into a handsome young well behaved Sheltie. He continues to impress us with his inteligence and eagerness to learn. He is lots of fun to have around and my grandkids adore him and he loves them back!
Linda - Suisun City, California USA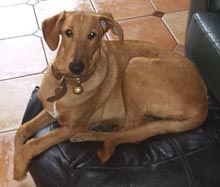 Having 2 rescue dogs (both hearing) already I wasn't looking to get another dog, but some friends of ours accidentally had puppies and we decided to take one on. Caramel was a collie x and a gorgeous black and tan colour, she was 5 weeks when she arrived here and settled in immediately. Being such a tiny little thing we were very careful to shut her in when we were moving the cars around the drive. Sadly one day tragedy struck, Caramel escaped and was run over by the wheel of my car, she didn't stand a chance. I was utterly devasted. My husband, bless him, took control and decided that the only therapy was to get another puppy.
We heard about a couple who once again had some unwanted puppies after adopting a rescue dog who turned out to be pregnant (we must attract charity cases!). Anyway it was a long old trek to see the puppies. We took both the children (Nina 8 & Myah 5) with us to help us choose. They chose Bijou, a labrador/greyhound x who was the most outgoing of the litter. She was a gorgeous golden/tan colour with a white chest and a small white star on her forhead, hence the name the girls chose.
We brought her home at 7 weeks old, she was very outgoing and didn't seem to mind when Belle our Beauceron x growled at her when she tried to share her bean bag. She loved playing with Daisy our Malinois x. She wasn't very yappy and never woke up whining in the night.
We didn't find out she was deaf for 2 weeks, we just thought she was headstrong for a puppy. Then I read an article by chance on the net about deaf dogs and suddenly everything changed. We tested her by clanging some saucepan lids together whilst she slept, no reaction (from her anyway, the other two ran outside as fast as they could!), whistling, clapping our hands nothing, not a sausage - she was deaf.
I found out about signing, and we started to teach her some signs, first one for her name, and then 'good girl' and 'no'. It was amazing, suddenly she paid attention. It was as if we had been ignoring her for 2 weeks and now we could suddenly communicate. Potty training was done in 7 days just like the books said, simply by sigining 'no' when we caught her weeing, instead of standing there shouting. Of course no one believes you when you say you have a deaf dog and usually they stand there and clap their hands loudly or whistle at her before saying oh yes. Then they look at you as if you are a bit crazy! You see she doesn't act any different, runs around like a loopy as puppies do.
Being a first time deafie owner, I can honestly say that they are not much different to hearing dogs. Signing isn't such a big deal, you feel a bit silly at first but when she does what you want it is a fantastic feeling and we certainly don't have signs for everything, infact she is getting so good at reading body language that sometimes she reacts before you have done the sign. Our two hearing dogs have learned the signs too. All three play together all the time and Bijou does bark and yelp like any puppy. OK she only has one volume level and her barks are a bit weird sounding, more like a fox than a dog, but I think that's just her!
There are advantages too to owning a deaf dog, you can sneak to the loo in the night without them waking up, and you can open a bag of crisps and eat half before the smell wafts across the room and wakes her! People in the park think you are really clever signing to your dog to command it, until you say she is deaf and then they think you are crazy!
So for anyone thinking of taking on a deaf dog, I would say do it. I have 2 hearing dogs, 2 cats, donkeys, a goat and chickens and Bijou gets on with all of them. My children love her to bits and it is hilarious to watch them signing at her as they shout at the same time. My youngest has been known to sit on Bijou's bean bag telling her a story!
At the end of the day all that matters is that the dogs character suits you and as long as you are a responsible dog owner, then a deaf dog is no different to a hearing dog. If anything I think they give back more as they love being cuddled, stroked and generally made a fuss of. If you have the chance to adopt a deaf dog then do it, believe me you will never look back.
This is my first time owning a deaf dog and it really is a great experience.
Sonia - Ladignac le Long, Limousin, France
I just got a deaf Boxer. He is one and thinks he is a person. My wife and I did not know what we were in for. This has been a big thing in our lives. There are some bad things about deaf dogs but they are few and the good things are too many and too good so the bad stuff gets put to the side and is dealt with at that time not all the time. They (atleast Casper) are not as hard to train as a hearing dog. We are the ones that need to be trained on how to work in their world not the one we think we need to. We now love Casper just as much as the other two dogs we have. We have changed every thing that we had to fit him in to our house and he has changed things to help us out. DEAF does not mean that they are no go it means we need to change what we do to make our world fit their needs. This is no different than what we do for hearing dogs.
Robert - USA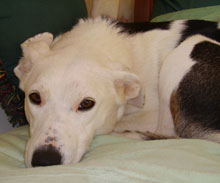 We adopted a 2 year old collie cross about 2 months ago now, called Poppy and it was love at first sight, even when we did know she was deaf, there was no going back she was coming home with us. She loves life and I love having her at home.
Having had dogs I knew it isn't easy to train them, but Pop did come with some manners, like she was house trained, but nothing else.
She jumped when you went out, barked at anything including the aeroplanes, something I think to do with flashing lights. When we first got her she would wake us anything between 10-15 times during the night just to make sure we were there and hadn't left. You'll be glad to know thats down to none now! She is now getting better has more manners and knows a range of hand signals, like come back and sit. She goes off lead for most walks, just never where I can't see whats in a field or round a corner. I wouldn't say she is perfect but I do plan to take her to agility in the new year as it may be a energy outlet! Deaf dogs aren't for everyone but I wouldn't be without mine!
Magz Wright - Padiham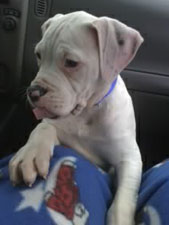 My boyfriend and I had been contemplating getting a dog for a very long time but were wary because we knew a puppy required time, money and devotion. We finally were ready, found one for sale in the paper and took the plunge. On the ride home from the breeder we were amazed at the fact that she slept like a rock. Nothing phased her or woke her up--car doors, cell phones, keys jingling, nothing scared or awoke her. 'WOW! We got a really chilled out dog, lucky us!' we thought. It was only a few hours later that my boyfriend made the comment that she could be deaf. We kind of laughed it off, assuming like everyone else with a deaf dog that she was a stubborn puppy.
We now know that she is indeed deaf, as all-white dogs such as herself commonly are. There have been a lot of tears, a lot of stressful thinking about whether or not to give her up, and the final decision is that she is too smart and sweet and precious to imagine life without.
I would tell anyone thinking about raising a deaf dog that it is extremely frustrating to have to leave your comfy spot on the couch and get up and physically get her if she's somewhere where she can't see hand signals and obviously can't hear a "NO" or a whistle. We know we will never be able to let her off a leash or out of our sight so we always have to be alert and aware. She will never be a watch dog and can't guard us and warn us of an intruder. But she is sweet and loving and smart and we are confident that she will fit into our lives as perfectly as any other dog, maybe even more so.
Kelley and Justin - St. Petersburg, FL, USA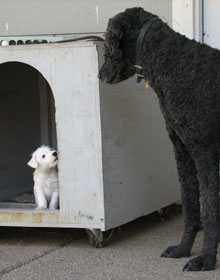 Our Jack Russell pup, Kipper, who is now almost 8 weeks old, was 1 of 5 in the single planned litter of our 6-yr old female and a registered AKC JRT stud. We'd had the litter to keep a pup and my husband's favorite was the fuzzy white boy who seemed the most outgoing and laid-back. By 4 weeks old, I suspected he was deaf as he continued to sleep when all the other pups woke up and cried. We confirmed it with other observations by 6 weeks and settled on Kipper as 'our' pup.
All the others are sold, on their way soon to new homes and we will miss them. But choosing to keep Kipper, rather than put him to sleep as many breeders do (an economical and ethical choice, I am sure), was never in doubt.
Fortunately, my husband, a new emeritus of the UCDavis vet faculty, and I see having and training a deaf puppy as an interesting challenge. Kipper is going to start learning, with us, hand signals and all that goes with normal dog-training once the other pups are gone. We would have loved any one of our little guys, but we have this unique and special little boy to teach us something new in life. Our JRT mom, 2 standard poodles, and we have lots to look forward to!
Kitren Glozer - Davis, California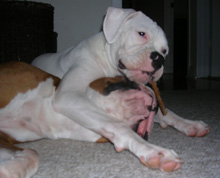 We were actively looking for a playmate for Hulk our boxer. I wanted a white boxer so we started looking through rescues and contacting breeders. We ran into a few BYB's who wanted sell us a white boxer because they are novelties...Right, truth is simple genetics means that breeding two flashy boxers is very likely to produce the white boxer. The sad truth is a majority of white boxers are either blind or deaf.. Some research says 1 in 5...This didn't scare me away in fact it made me want a white boxer with special needs.
That is when Storm came into our lives. Storm was 3 months old when we got her. Hulk and Storm were instant best friends. We knew that we had to learn to communicate with her so we hired a private trainer. The trainer ended up mainly for us. Storm caught on so quick but it took us a little bit to get on her level. When people find out she is deaf their instant response is "aww poor thing". Storm will be the first to prove that her being deaf is a strength, not a weakness. She goes to the off leash park and makes the hearing dogs look bad with her almost perfect recall. She barks, guards her family and plays just like any other dog. Storm has taught me so much about special needs and how to overcome my sympathetic desires and treat her with the respect she deserves - that of a loving best friend. Sure we communicate differently but there is nothing that keeps her from being Storm!
Andrea Flinn - Austin, Texas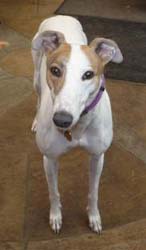 I had a deaf collie x and hoped one day to own another deaf dog. Greyhounds which are our chosen breed in this family do not often suffer from deafness. We wanted to offer a home to a deaf greyhound boy a few years ago but our other boy didn't get on with him. Last year though we became aware of a young greyhound looking for a home - the rest is history. Millie came down from East riding to Surrey and our lives have never been the same.
She is nearly 3 now but behaves like a pup. She is the most loving dog and a joy to own. Her deafness is hardly ever an issue except when she steals something and you have to run after her! She watches our other dogs for clues. She has her own blog at http://milliethedeafgreyhound.blogspot.com/
Alison Niemira - Surrey, UK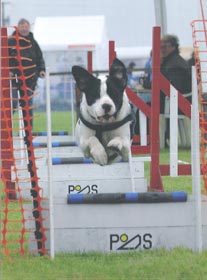 My first deaf dog was a little old terrier, I am sure he had heard in the past and I discovered by accident he could hear a clicker, which was a fantastic way to wake him without making him jump. When I had him I discovered that deaf dogs are often overlooked so I decided that I could offer a home to another.
Jed - A Boxer x Pointer, Jed is almost 3 now and has been with me since he was 10 months old. Jed has just registered for Division with the British Flyball Association - who says you can't train a deaf bulldozer! Jed is also a Pets as Therapy visiting dog.
China - I was not looking for a 4th dog, but when I saw China's details I just had to offer her a home. China does know hand signals but unless there is a biscuit involved tends to be "Hang on, I'm BUSY" - typical Boxer!
Georgina - Wales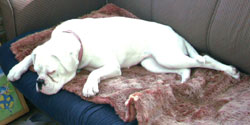 China - a very small deaf white boxer, 2 years old the day she came home to live with me, and I am her 3rd human.
China tends to be either full on Sumo with her "brothers" or flat out.
Georgina - Wales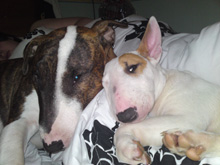 Betty is a 5 month old English Bull Terrier. She lives with Kash, another bully. Both my bully's love each other very much but Betty is very dominant, she likes to be the boss. She is also very loving. Betty has to be touching me or at the side of me where ever I am.
Betty watches very carefully around the house/outdoor. She darts towards the door soon as it opens and barks not in a nasty way just to greet whoever is there (tail wagging) movement on the t.v, she loves watching the t.v and the washing machine is her all time favourite. Betty loves movement, and rotation she watches trains, bikes, cars etc. The emergency services are a bit hit for her too with there flashing blue lights, where as Kash likes the sirens.
She is very young still and I think with time and patience will turn into a very loving and affectionate little girl. I have introduced hand signals since I got her home from the breeder. I did not realise she was deaf till she came home. I would not change her for anything. A deaf dog can make a fantastic dog with the right person.
Emma - England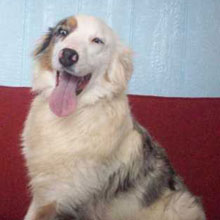 Gretchen has only been with us a couple of days- some guy apparently "bought" her, bred her, and dumped her at a local shelter.
If I said there haven't been challenges I'd be lying... but she is learning quickly and has taught us in the process! She is awesome! We also have a hearing dog. Gretchen is quick to pick up on what he does as well. She's already learned a couple of hand signals, but I am SO glad that we've found this website to help with training tips!
Bec & Harve - Scottdale, PA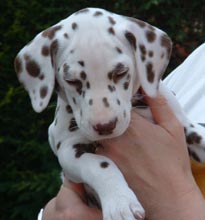 This is Daisy, she was only 7 weeks old when we had her, the breeder was told to put her to sleep. We travelled 200 miles to save her. She is the second deaf Dalmatian we have had and oh boy is she a smart cookie. We have only had her for one week and already she can sit to command, is almost house trained and is such a live wire. We also have a hearing Labrador Retriever and they play so well together. Never be put off by owning a deaf dog. Yes they are hard work at first but when you realise you have given a dog a chance of life rather than it being put to sleep it makes it all so worth while.
Susan Lee - Leominster, Herefordshire, England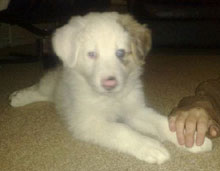 Blue is a 15 week old, blue merle border collie. He is a gorgeous puppy, with huge feet and long legs. He constantly "smiles" and loves nothing more than to wind in figures of eight around your legs when going for a walk!
We bought Blue yesterday (feels like forever!) from a woman on the RAF base in Leeming. We found her advertisement on the internet and met him twice before deciding that he was the puppy for us.
For some reason, on both occasions, there were a number of people around and it was quite confusing as to what was going on! It didn't matter though, Blue was everywhere and anywhere at once and was loving the attention!
When we brought him home yesterday, he began to settle in to his new home immediately. Our girls love to play, and he gets so excited when they play tug of war he immediately needs to pop outside for a toilet break.
We began to notice that Blue seemed to have selective hearing when he didn't acknowledge particular noises, noises which most dogs would at least cock their ear at.. We called his previous owner (who had to sell Blue because she wanted to get a full-time job... hmmm) and asked whether she knew of a medical condition. She said that she didn't know about it, but would love to hear what the vet had to say and asked if I could call her back.
So, this morning I called her vet. Something didn't sit right with me about the situation and I wanted to see what they had to say. I was right! On the 31st March, Blue's owners "had concerns about deafness". How deceitful can people be? Someone in the RAF for Gods sake! Poor Blue, our hearts immediately broke on his behalf and we instantly called our vets who took him in on a moments notice.
By 10am this morning we had received notification that Blue was indeed 100% deaf, and that it was more than likely a hereditary trait.
So she had lied to us, and now we are facing our future with a deaf dog. A daunting prospect.
Truth be told, we are just thankful more than anything that he is now with a family who is going to adore him for his wonderful and adorable personality, train and fuss him as he deserves, and love him for the rest of his life.
It also helps that my best friend's father is a senior commanding officer in the RAF.. pity I didn't mention that when I bought him hey? Hee hee.
Helen Wright - North East, England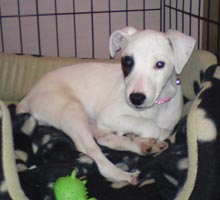 We have a Parson Russell which was born deaf, we adopted her when she was 16 weeks old.
I read everything I could find on hand signals and peoples experiences with deaf dogs. We have had her for a couple of months now and she knows 'sit', 'lie down' and 'NO' (well sometimes).
She is such a excitable dog and loves all the attention she gets. It can be frustrating at times but I wouldn't change her for anything. She is a typical terrier in every way.
Michelle Holden - Kent, England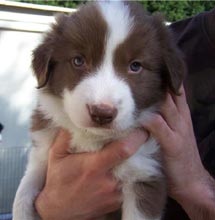 I'm just starting my journey. I had a beautiful hearing border collie last year and had no plans to add to the family just yet until a repeat mating produced 5 lovely pups. When one was discovered at 5 weeks to be 100% deaf, the breeder, who has become a friend was devastated. I offered to have her on the spot. She was so beautiful. So in 2 days, Izzy will come to live with us and her big sister Skye. The family have been busy teaching my older dog the hand signals and she is picking them up great. I have no idea what's instore for us but am greatly encouraged by the positive stories on this site. Thanks so much for the support. Wish me luck!!
Mel Wilkinson - West Midlands, England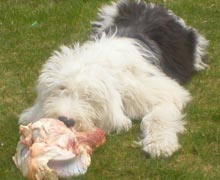 I adopted Cappi at 10 weeks from a pet rescue. The breeder knew he was deaf and gave him up. It didnt bother me that he was deaf, I had used hand signals to train a GSD years ago.
If there is a downside, its the amount of scratches he gets off my cats when he doesnt hear them hissing and howing at him.
I have had Cappi four months now, he knows his basic commands and his recall his very good, if he remembers/bothers to look at me! I used to worry about him not coming back but there are so hearing dogs not listening to their owners, I am not so hung about it now.
Lesley - Abergavenny, Wales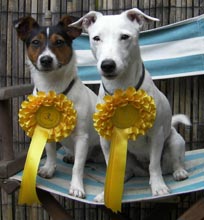 We had been waiting for the right time to get a puppy. We knew exactly what breed we wanted and we read as many books as we could find on bringing up our new dog. I even got people to buy me things for the dog for my birthday the year before we even got our dog! We were going to wait till the next summer to get a dog, but my one-day my 13-year-old white cat, Phoebe died. It was a great loss to us the house felt completely empty and I just couldn't stop crying. We both work at an animation studio we had been discussing with our boss if it was ok to take a dog to work. After he said yes we started looking on the Internet.
We told our selves we're not getting a dog yet. We're waiting till next summer that's when Rob spotted a photo of a little white Jack Russell puppy amongst her coloured littermates. He called me over for a look as we hadn't seen a white JRT before and I instantly fell in love partly because she reminded me of my old cat Phoebe.
After a very distracted day at the office we got home and chatted about the ad. We decided to give them a ring. I thought to my self a cute little white one like her would be the first to go, but to our surprise she was still there the last one left! We got there and were greeted by her two reserved brothers and her mum who was lovely and kept bringing me her ball. The little white one was busy pottering about and wrecking the flowerbeds in their garden. I looked at Rob a bit unsure, but the breeder walked over and picked her up and placed her in my arms. She spotted her mum and wanted to get down right away. It wasn't love at first sight really. She got to know us and after a while she started to warm up to us pulling our shoelaces nipping our fingers. That's when we had to decide if we wanted her.
In my head I was thinking of all the stuff I had read in my books about choosing the right puppy. She didn't exactly tick all the boxes. But its really hard when your sat next to a really cute puppy wondering if you don't take her home what sort of person will? Rob was thinking the same thing, but he didn't know that I was and he was looking at me trying to see if I was wanting to keep her too. So I just said yes and that was that. We paid the lady got in the car and took home our new puppy, Deedee which is now spelt DD after having difficulty with trying to spell out D-E-E-D-E-E to the vet receptionist over the phone. On the way home she slept all through the whole journey as I inspected her for fleas and I remember thinking "I hope she's ok and we haven't made a mistake".
We soon realised when we got her home that something was up. She didn't respond to us at all she just seemed like she was in her own little world. I remember squeaking her toys and calling her all while she would just be pottering about making her little snuffle noises when she made eye contact she would look at you and wag her tail as if to say "What you looking at?". A couple of days later we took her to the vet where over her loud screaming I asked the vet if she thought she was deaf. It was horrible watching the people in the waiting room wince at her shrill cries and looking at her with sour faces. I just wanted shout at them all and tell them to stop being so stupid. The vet clanged and clapped and made funny noises looked up at us and confirmed that she was deaf. She suggested that we take her back for the breeder to decide her fate and that she may even be put down. I think it was because she didn't think we had it in us to cope with her. I think she took one look at my bottom lip trembling and the stress in my eyes from being so angry with the people in the waiting room and twitching with every squeaky yap DD made, she must have thought "This woman is way out of her depth!". She looked shocked when I said "So when should I book her in for her jabs?"
The vets were very helpful and gave me some numbers of behaviourists for help. I called a lady I think her name was Sarah Mathews I can't remember now, but she suggested a book by Barry Eaton called Hear, Hear. As soon as that book came in the post I read it re read it and read it again in one day. That was it DD and me were on a roll. Barry Eaton's books have helped us so much he has also helped us many times over email. He and his wife are remarkable people I was very proud to show off what his books had done for us when he visited us earlier this year. Barry and Carol thank you so much!!
DD went on to complete her silver level in obedience and learned some super neat tricks. We are hoping to start a gold class soon and do some agility. We have started to come across some social problems even though we had worked very hard with getting her accustomed to all sorts of dogs and did a lot of socialisation as she grew up. She also has funny obsessions with window reflections and people's car keys, but we are working on them at her own pace right now. Hopefully I will be attending the Class on Deaf dog training this September to help gain some more knowledge for her training.
I can't imagine life without my beautiful dog DD. Rob and I truly adore her and we are so thankful that she is in our lives. It's been just over a year now since we had her it's been the best year of my life! If it wasn't for DD we wouldn't have met so many lovely people and made some very dear friends such as the ladies from Second Chance Animal Rescue and our buddies from puppy class.
We love you DD, Thank you so much for being our dog! And thank you to Banjo who we fostered and ended up keeping earlier this year who we also love very much :) xxx
Charley - Hampshire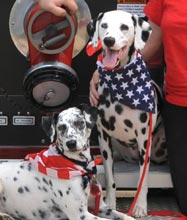 My two deaf Dalmatians, Lottie Dot and Dora are registered therapy dogs, Reading Education Assistance Dogs and Canine Education Assistants. They are in a group called TN Safety Spotters, a deaf therapy dog group. Besides visiting hospice children, abused children, they teach Fire Safety and Dog Bite Prevention. Enter the world of deaf therapy dogs: https://tnsafetyspotters.org/
Patricia Belt - Grand Junction/Memphis, TN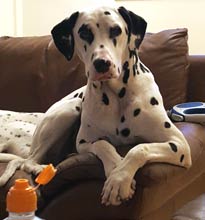 So this is Disney. My beautiful 1 year 2 month rescue Dalmatian. He came to us at 9 months and we quickly noticed that he wasn't responding to our voices or noises the way he should. Quick testing proved he was fully deaf in one ear, but also very very limited left in the other. He can only hear a very high pitched tone, and you have to be up-close. Disney is also epileptic, a lot going on for such a young pup.
He's a great family pet, all be it that he makes the most noise out of all my dogs (we have three in total. A Dalmatian cross collie from the same rescue and failed foster and a new chihuahua puppy) but if we look past his screeching we have the most loving dog we could ask for! We didn't save this boy, this boy (and my others) totally saved us!
Caitlin - Coatbridge, Scotland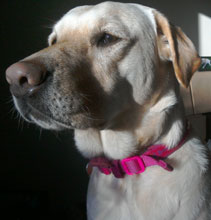 My wife used to work at a boarding/ breeding kennels and Lacey was born as the runt of her litter. The breeder quickly realised her problem and was going to re home her or worse! We took her on and after much laughter and tears we have the most lovable sweet Labrador you could wish for.
Hand signals and treats work and off lead she never strays more than 100 metres away because she had learnt a treat is never far away ..yes it's hard but worth every minute ...!!!
Jeff - Cheltenham, UK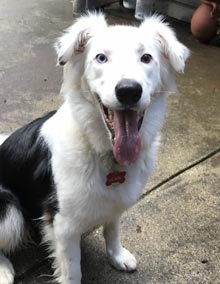 We adopted Sky from a border collie rescue. She went from a shelter into rescue and was in a foster home. Adopted out and returned back to the foster family. All of this happened before she was much over a year old. Poor little thing wasn't too sure what was happening!
We had a deaf border collie for almost 14 years and had lost her the previous year. Being heartbroken, we were not yet planning to get another dog. Our vet called us and told us he had clients with a deaf foster dog. They were having training issues. Could we help them? We visited the family and met Sky. We made a few suggestions and went home.
We continued to think of her and finally decided we were ready. We have now had Sky about 10 months. She was quite energetic when we got her but with patience and training she is relatively calm in the house and responding well to signs. We made sure she has active time outside to burn off some energy. She is absolutely the biggest lovebug ever. A week after we got her my husband said "she makes me smile!". I feel that a deaf dog can add so much to your life. Yes, a bit more of a challenge but what an accomplishment when they turn out to be fabulous pets.
Terri - California, USA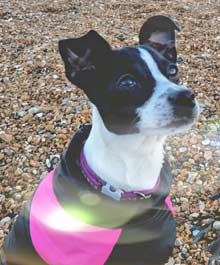 Poppy is a Jack Russell x Chihuahua puppy - who we now know to be deaf. She's got the sweetest temperament, saying hi to everyone we see at the park or at home. If she spots another dog she immediately wants to go and play. When we first got her, she seemed ignorant but eager to please. I had been given the advice by a friend to start with hand signals in the beginning as dogs often respond to that much more easily. When she wouldn't come to me and slept through the loudest noises, I toyed with the idea that she was deaf. At 12 weeks the vet confirmed it.
She's now 5 months old and knows loads of signs. She can fit through our cat flap and let herself out of the house to go to the toilet and rarely has accidents in the house now. People look at me as though I'm crazy when I say she's mine, and deaf. I've taken full responsibility to train her, walk her etc. because I'm 14 people think I'm incapable of handling a handicapped dog but because of her eager to please nature and sweet temperament, I'm proud to say she's coming along in literal leaps and bounds. We go on all sorts of adventures, she's been off lead on walks with my grandparents dogs, coming back every time I ask.
Everything is so exciting to her, a new thing to discover and I'm excited to discover them with her. She's incredibly well behaved and is constantly wagging her tail. I've never met a happier pup and wish that deaf dogs could stop being seen as unfortunate. The only unfortunate thing is the way people treat them, in cases where deaf puppies are abandoned or even put down. They are 100% capable of leading normal and happy lives - as Poppy reminds me every single day!
Amelia - Malmesbury, England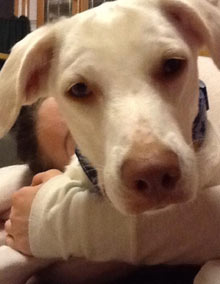 I went to my local pet store to buy items for my pets but I always stop by to see who is up for adoption. I saw this white pup with two different colored eyes. Her description said she was deaf. She was only a year old and she was born deaf. I looked her in the eye and I knew she had to be mine. I showed her to my husband and he said she's deaf and looks rough. My KIND of dog! We left without her. I took to social media and all of my friends to convince my husband that I needed this pup. Finally he agreed. I went to get her but found that she was back at the shelter for kennel cough. I saw her and said I want her. I brought my border collie in for a visit (he is so alpha and I was so worried), he went to her and was so kind like he knew her forever. I adopted her that day!! She learned all of her cues from my Border Collie. To this day he is her protector and she is the love of our lives. So innocent and sweet. She has developed cancer, diagnosed a couple of weeks ago. I am fighting 100% for her, she's just so sweet and innocent and doesn't even realize she is sick. Blue is the best girl ever and I can't imagine a day without her!!!
Rose - Dover DE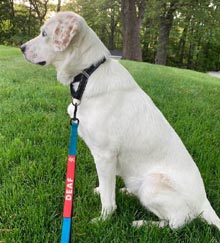 Snow White was rescued by Sweet Paws Rescue found running wild in the woods of Mississippi carrying 7 puppies. She was brought to Massachusetts, raised her puppies and was fostered by a lovely family who taught her manners and 12 commands through sign language. We lost our 3-year old lab to cancer in March and rescuing a dog made more sense for our family. All of Snow's puppies were adopted but she was not for four months. In May 2022, we adopted Snow - we are five weeks into our journey. Snow is smart and cat-like, exactly how our foster family described with a very independent mindset. She loves meeting people and dogs, loves her walks and is very well adjusted. Snow is a Great Pyrenese, Lab, Blue Tick Coonhound mix and 2 years old. We will continue to work with her, recall is the only difficulty we have encountered so far, we keep her on lead for now. We are meeting the family with one of her pups next weekend. She is a love. We have shortened her name to Snow. This is the first website I have found with deaf dog stories - thank you so very much for providing this platform to share stories.
Sharon - Massachusetts, US
Your Deaf Dog Story
Use the form below to send us your experiences of living with a deaf dog.