D for Dog Goes Mobile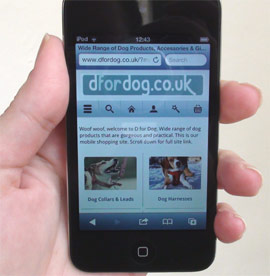 We are excited to introduce our brand new mobile site - a specially pared down version of our site that has been designed for shopping online on small screens.
If you are accessing D for Dog on your mobile phone or device, navigating around a full sized site can be difficult. You want to get to the products as quickly and easily as possible so you can make your purchase with no fuss. Our new mobile site allows you to do that.
Check it out by going to dfordog.co.uk on your mobile phone or other small mobile device. You will automatically be taken to the special mobile version of our site. If you prefer to view the full site you can do so by clicking the 'full site' link at the bottom of the page, and switch back again if you want to.
Tablets will still show the full sized site, as they have bigger screens. So you still get the full D for Dog experience on larger devices.