Discover Dogs
2 Comments
Friday, 25 August 2017 |
D for Dog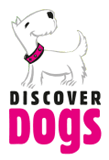 Follow your nose to Discover Dogs - London's biggest dog event.
ExCel London
21st & 22nd October 2017
Under 8s go free
Discover Dogs provides a fantastic opportunity for visitors to meet, greet and discover hundreds of different breeds of dog, and learn all about the distinctive personalities, traits and looks of each breed, and how to buy the perfect canine partner.
Discover Dogs online Ticket Office.
Buying a puppy or dog? Want to find out more about pedigree breeds? Looking to watch fun dog shows and displays? Those looking to buy a puppy or dog can talk to breeders first hand to discover what breeds would suit them.
The show is also packed full of great shopping for dog lovers, events and competitions, exciting agility and displays plus health and training tips from the experts.
http://www.discoverdogs.org.uk
Important - NO DOGS, other than those that have been invited by the Kennel Club and Registered Assistance Dogs, are permitted into the show.