Divorce Pet-nups – Who gets the dog?
Have you ever wondered what happens to the family dog if you and your partner divorce? It can prove to be quite a messy and complicated situation, at a time when you need clarity not confusion. Your beloved family dog is not actually a family member in the eyes of the law. So where does that leave you and your beloved pooch if you divorce or separate?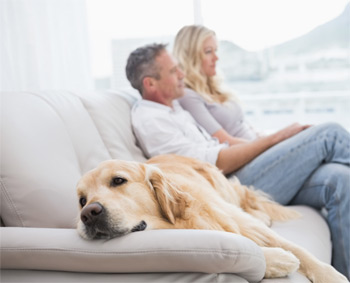 The popularity of pets has rocketed during the past 18 months due to Covid and millions of pet dogs are enriching our lives and stealing our sofas on a daily basis. But the fact is that our adored family pets have the same legal status as the very sofa they lounge on. This is why disagreements about who gets to keep the family dog during divorce proceedings can end up in court.
Cheryl and Ashley Cole's divorce famously hit a stalemate over custody of their two puppies, while Ant McPartlin and Lisa Armstrong had to rely on the courts to settle custody of their Labrador.
Divorce or separation is a stressful time and worries over ownership of the family dog will only make a tough situation even worse. It's time to consider how a pet-nup can help.
What is a Pet-nup?
A pet-nup is essentially a pet-related version of a pre-nuptial agreement. It is a prenuptial agreement that specifically details what will happen to a couple's pet(s) in the event of a divorce or separation. It outlines the arrangements for the pet(s) and it will be subject to contract principles.
If you are considering entering into a prenuptial agreement, reference can be made to your pet within this agreement. Otherwise, you can get a standalone pet-nup written when you acquire a pet.
It is important to point out that pet-nups specifically relate to married people. If you have no plans to marry, it is worth thinking about a co-habitation agreement. This is a legal agreement that sets out who owns what and in what proportion in a relationship and it can include provision for your pets.
Why do you need a pet prenuptial agreement?
Of course no one enters into marriage with the intention of separating, but it is worth having a conversation now about who has the right of ownership should your relationship break down. You will potentially save a lot of heartache down the line.
Here are some things to start thinking about:
1.
Have you and your partner discussed who would look after your dog if you divorce or separate?
2.
If you haven't, who paid for the dog or was it a gift?
3.
What evidence is there to support ownership? Do you have a receipt from the breeder or paperwork from the rescue charity?
4.
Who will pay for the dog's upkeep and any vet or insurance costs?
5.
Many couples need help to reach a compromise about the arrangements for their dog. Will you need this support?
In legal terms, pets are considered to be chattels (personal possessions), so this is how the court will treat them. Chattels are items that are movable. Some obvious examples include furniture, photographs and jewellery but the definition is quite wide and includes vehicles and also pets.
In divorce cases, the courts naturally tend to focus on matters involving finances and the care of any children, rather than family pets. Should you get divorced or separate, having a pet-nup in place will give you peace of mind about how your dog will be looked after and will prevent any confusion or misunderstanding down the line.
How to get a pet-nup
If you want to have a chat about getting a pet-nup, the team at Eric Robinson Solicitors are available (with no-obligation) on 02380 218000. You can also visit
Eric Robinson Solicitors
. These pet-loving lawyers can help with pet-nups, agreements for pets in co-habitation and even provisions for pets in your Will.