Documentary Looking for Pets with Vet Phobia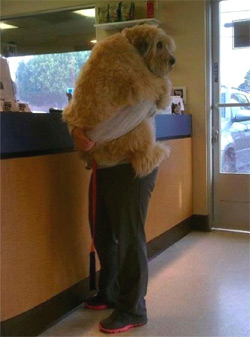 Does your pet hate going to the vet?
A brand new Channel 5 documentary could help! Called "Pets Who Hate Vets" it will feature and help pets with severe cases of vet-phobia.
The documentary will follow British pet owners who have come to dread the ordeal of going to the vet almost as much as their animals.
Channel 5 are looking for pet owners whose animals suffer from severe cases of vet phobia, whether they are large, small or unusual.
"Whether the owners have devised a special method of duping their pets, or perhaps a specific device to lure them along, we'd love to know! Or if trips to the vet have become so bad that they are no longer on the cards, then we may be able to help. We have an animal expert on hand to help pet owners with strategies for the future, and treat a few poorly pets who simply can't or won't leave the house."
If you're a pet owner driven to distraction and think your pet fits the bill, TV production company, Plimsoll productions, would love to hear from you!
Email: casting@plimsollproductions.com or call 0117 307 2318
They will be filming across the UK this summer 2015 and would like to hear from people who might be interested in taking part in the programme. Don't delay if you are interested. Filming ends mid-August but you will need to apply much sooner if you want to take part.