Dog Lovers Festival
Friday, 17 June 2022 | D for Dog
Dog Lovers Festival 2022 is a fantastic dog and music festival event for you and your best fur friend. Want to go to a music festival but don't want to leave your best friend behind, then Dog Lovers Festival is for you. Set in the glorious Derbyshire countryside, it is the UK's best dog friendly Tribute Festival.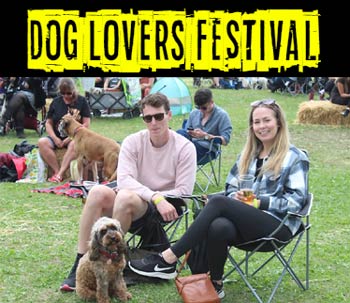 Dates
Friday 5th August 2022 (music, food & drink only / no dog activities)
Saturday 6th August 2022
Sunday 7th August 2022
Location
Elvaston Showground, Derby DE72 3EN
At the festival
The event has a festival feel with entertainment, live music and award winning food and drink. Tribute acts include impersonators of Oasis, The Killers, Take That, Madonna, Elvis, Amy Winehouse and more.
The event includes a fun dog show on Saturday and Sunday, agility, scurry run, obedience training, lure chasing, steeplechase, hide and seek, doggie dip, scent work and lots of tips and advice from dog groups and specialists including free health and dental checks, ear and teeth cleaning, nutrition seminars and more.
There is also a fantastic range of dog related stalls selling leads, collars, harnesses, toys, food and anything else you can think of.
Camping is available adjacent to the event. Once you have purchased your weekend tickets you will be given the option to book weekend camping passes.
Voted by The Daily Telegraph readers as one of the top 10 Dog Events in the UK.
A great event for families and canines alike - there is something for everyone. Day and weekend tickets are on sale now.
To purchase or find out more visit Dog Lovers Festival 2022
Please note there may be a small charge for the have-a-go activities but 100% of money raised by the charities is kept by them.