Jimmy & Chew Educate Children
Two loveable dog puppets have been created for the charity Dogs Trust to help them educate children about how dogs think, feel and perceive the world around them.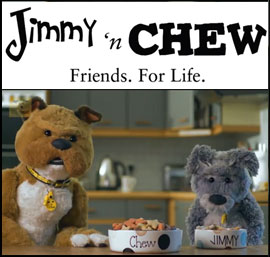 Learn With Dogs Trust is for teachers, youth leaders, parents and young people offering fun, engaging and exciting activities all about dogs. The films and resources provide fun activities with a dog themed context to engage pupils and bring learning to life.
Through a series of seven films Jimmy n' Chew cover all the basics of dog ownership including getting a dog, understanding socialisation, the differences between dogs, status dogs and several other important subjects.
The films will form part of a curriculum-linked classroom teaching resource targeted at 7-11 year olds. The films are due to go live in schools during the forthcoming term but are also available online for all to view.
Jimmy has been the family dog for years and has seen the kids grow up. He was originally a Dogs Trust Dog after being abandoned by his first owners when they wanted to go on a 'No Dogs Allowed' holiday. Chew has been unfortunate during his young life. He was originally bought as a Christmas present but when he couldn't stop getting bigger he soon outgrew his welcome and ended up at Dogs Trust.
In their debut film 'Nice to Meet Chew' - Jimmy meets Chew for the very first time and realises that he is not the only dog in the house.
For more information, to view the films and/or to download the resources, please visit Learn With Dogs Trust.
All the films were written and produced by independent production company Contented Brands.
In this first film and another of the films which focuses on Maths, the eagle-eyed among you may have noticed that Jimmy & Chew are very lucky dogs as they both have personalised dog bowls from D for Dog.

D for Dog would like to say a big thank you to Alex of Contented Brands for including us in the making of the films by asking us to provide Jimmy & Chew's bowls. We enjoyed being involved in Alex's work and, as huge supporters of Dogs Trust, we are very proud to have one of our products featured.
To view our range of personalised dog bowls including the bowls Jimmy & Chew have, click here!