Dog Road Death Rule Change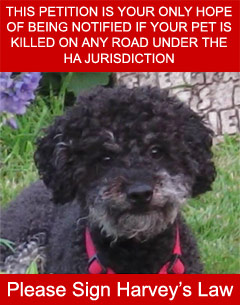 A Highways rule change is in the pipeline, and is in fact already being rolled out, which means that deceased animals found on UK roads will no longer have to be checked for identification and owners will not have to be told about their pets demise.
Highways Agency contracts used to state that dogs found deceased on motorways and A roads must be checked for identification and the owners informed. Road workers will no longer be obliged to check the ID or microchip of a dog who has been found on the roads. It is believed that these changes are for cost-cutting reasons. Mandatory ID checks will no longer be compulsory by July 2015.
A spokesman for the Highways Agency said:
"In response to the requirements of Government's Spending Review 2010, the Highways Agency has been awarding a new type of contract that maximises efficiency and value for money for the taxpayer, without compromising road user and road worker safety. An element of this has been the removal of our mandatory policy for handling canine fatalities."
Owners should be told if their pets have been killed on the roads
In an age where we are all being responsible by making sure our pets are easily identified, there is no need to keep pet owners in the dark and cause unnecessary suffering. A check of the ID tag or a scan of the microchip is all it takes to find and contact the pet's owners.
Jude Devine's Miniature Poodle, Harvey, who was chipped and wearing an ID tag, ran away and within half an hour had been killed on the M62. His owner was not informed and carried on looking for him for 13 weeks, even contacting the Highways Agency numerous times and being told no dogs had been found.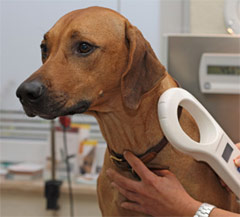 "There are numerous documented occasions where people's pets have been shamelessly discarded without consideration, respect or compassion for the owners rights." says Jude.
Harvey's Law has joined forces with Jester's Law. Nikki Reay's Rottweiler, Jester, was killed on the A1 in 2005.
"His body was removed and sent to the rendering plant where his flesh was stripped to make fuel for energy plants and his bones were crushed to make garden compound," Nikki said. "No one scanned him for a chip or took details of his tag. No one alerted authorities or logged the incident and I was never notified."
Sign the epetition to make sure owners are notified
An epetition opposing this rule change has already achieved an amazing 113,954 signatures, and rising.
We request Legislation to enforce a formulated process ensuring that HA Departments abide by the following:
Compulsory scanning of all domestic animals retrieved from the highways.
Log report filed and circulated to both Police and Dog Warden.
Photographs of the deceased to be held with the log report to be used for identification purposes.
Please sign here http://epetitions.direct.gov.uk/petitions/62490
Contact your MP
The debate for Harvey's Law in UK Parliament has been scheduled for 2nd March 2015. Why not email your MP and tell them why they should back it. Here's how to find your MP - click contact your MP
Vets Get Scanning

The Vets Get Scanning appeal is also a real eye opener. It points out that, although microchipping is soon to become the law, it is not proof of ownership, vets and rescues are not required by law to scan pets, council pounds don't have to scan before the seven day deadline, and so the list goes on. Shocking!
They point out: "It's no good giving all dogs microchips if all vets, agencies and other establishments do not scan for microchips as standard procedure every and any time an animal is dealt with whether dead or alive."
To find out more, visit vetsgetscanning.co.uk/
By Jenny Prevel