Dog Safety Video and Workshops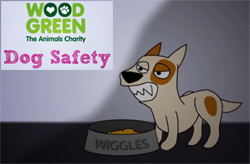 Sadly, all too frequently we see headlines in the press relating to attacks on children and adults by their own family pet or friends/relatives dogs.
Wood Green have made a fun and informative dog safety video for children, teaching them how to stay safe around dogs. It uses great cartoons and film footage to explain what dogs like and do not like, basic dog body language, the steps to meeting a new dog safely, and explains the times when even the friendliest dog needs to be left alone.
"At Wood Green we feel it is extremely important to promote ways of having fun with your dog but also staying safe."
Think dog, stay safe!
I think this is an excellent video for anyone to watch, not just children.
Please do share with family and friends so everyone can learn to be that little bit safer around dogs.
Free Workshops
Wood Green are doing free Living with Dogs Workshops. Their online events calendar can be found here. The next Living with Dogs - Free Family Dog Safety Workshop is on Sunday 12th October 2014. Perfect for all those that live with dogs, visit family or friends that have dogs or those looking to get a dog in the future.