Dog Who Survived the Odds Seeks Loving Home
Staff at Dogs Trust Ballymena are appealing for dog lovers to come forward and offer a loving home to an elderly dog who has made a remarkable recovery after being abandoned in a box at the Rehoming Centre on the 22nd April in, what staff describe as, one of the worst cases of neglect they have ever seen.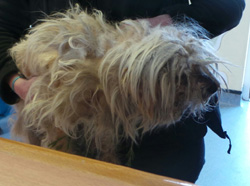 The dog, named April, after the month she was found was left abandoned in an open top box at the Rehoming Centre on one of the hottest days of the year. April was dangerously dehydrated and had maggots under her matted hair. Due to her old age, April has reduced vision but her matted fur also caused her to have ulcers in both eyes. Her ears were also sore and she was reluctant to eat due her mouth being severely infected.
Dogs Trust Ballymena Rehoming Centre Manager, Oonagh Phillips found April in a 'horrific' state: "All of us were devastated when we found April, she was so weak she could hardly put one foot in front of the other. You could barely see she was an actual dog as her hair was so filthy and matted you couldn't see her face. It was truly heart breaking to see her in such a state."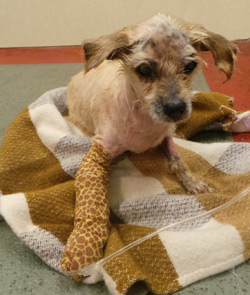 Staff at Dogs Trust acted immediately ensuring April was given medical attention straight away.
Oonagh continues: "As April's teeth were so rotten she couldn't eat or drink and arrived at the Rehoming Centre terribly dehydrated, we took her to the vets straight away where she was put her on an IV drip to help rehydrate her and bring her energy levels back up."
April's fur was shaved off and all of the maggots were removed. Treatment was started to clear up her ear and eye infections and after being rehydrated and regaining her strength, April started eating again.
After around the clock care and lots of TLC from all staff at the Rehoming Centre, April is now on the mend and looking for a loving new home.
Dogs Trust Ballymena, Assistant Manager, Sarah Park describes April's recovery as 'incredible': "We just didn't know if she would make it at one point as she was abandoned in such a horrendous state. We didn't know if she had any strength left in her. But all the staff rallied around April and it's thanks to the incredible Veterinary team and her Canine Carers that she pulled through. She is a completely different dog to the one who was so callously abandoned in April. I just hope she now finds the loving home she deserves."
Sarah continues: "Since we shaved off her matted fur we've been putting her in jumpers to keep her warm. Cuddling up in duvet next to the radiator is her favourite thing to do and as she's now eating, she grows stronger each day. Now she has recovered from her ordeal she's looking for a loving home where she will get the care and attention she so deserves."
After all April has been through, she needs to be rehomed to quiet and calm household with lots of home comforts including snuggly blankets and a comfy bed to rest her paws. As she is an older lady she's happy just tottering around as energetic long walks will be too much for her little legs. April is an independent lady and doesn't need a lot of fuss but would love an understanding adult only home that will give her space when she needs it.
Can you give April the loving home she deserves?
If you think you can offer April a home and are interested in rehoming her please give the Dogs Trust rehoming centre a call on 0300 303 0292.
Dogs Trust Ballymena
Fairview
60 Teeshan Road
Ballymena
Co Antrim
BT43 5PN
Dogs Trust Ballymena is open 12:00 - 16:00 Saturday – Thursday. Closed Fridays.