Dog Donor Schemes
Many of us give blood and carry a donor card but have you ever wondered if your dog could do the same? If your dog needs a blood transfusion due to illness, injury or an operation, where does that blood come from and could your dog help?
Dog Blood Donation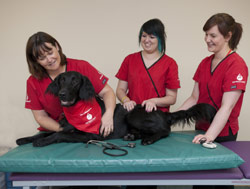 Did you know that dogs can give blood too? Launched in 2007, Pet Blood Bank UK is the first and only charity of its kind that provides a canine blood bank service for all veterinary practitioners across the UK.
Just like the human blood service, Pet Blood Bank UK collects from voluntary dog donors at organised collection sessions nationwide, on average five sessions a week. The blood is then processed into packed red blood cells and fresh plasma, and delivered to veterinary practices when they need it most.
Joanne, the owner of two dog donors says "The whole process involving the collection of the blood is very easy and the team are very good, putting both the owner and donor at ease. If the donor isn't comfortable, then they don't go ahead."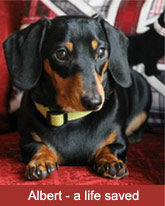 Over 1,000 dogs needed a transfusion last year, including a seriously ill 3 year old miniature Dachshund called Albert. He was rushed to Davies Veterinary Specialists after he became lethargic and started vomiting. Blood tests confirmed vets' suspicions that he had a condition where his own immune system was destroying his blood cells. Seriously ill, Albert had to receive three blood transfusions. After a long and difficult wait, Albert's blood count went up and he is now well on his way to recovery.
Can your dog help save the life of another dog, like that of Albert's? Every unit of blood collected can help save four dogs' lives, saving thousands of lives every year.
As a pet owner there are lots of ways you can get involved to help Pet Blood Bank UK in its life saving work. If you are interested in putting your dog forward to donate blood they would love to hear from you. If your dog is not eligible to register on the donor programme, volunteering is another way you can help Pet Blood Bank UK. As a charity they need to raise funds to support the needs of donor and recipient dogs, so volunteer fundraisers are always welcome.
Visit their Pet Owners page to see how you can help or to find out whether your dog could be a blood donor, what a donor session involves, what happens to your dog's blood and to find your nearest dog blood donor session.
Dog Tissue Donation
Donating blood is something your healthy dog can do. But have you ever wondered if your beloved dog's body could be used to help sick or injured dogs after your dog has passed away? So far there are no schemes for dog organ donation but you can donate your dog's tissues (bones, tendons and ligaments) after their death, to help other dogs who need certain procedures.
Veterinary Tissue Bank is Europe's first veterinary tissue bank dedicated to helping companion animals in need of tissue transplantation. Tissues such as bone, tendon and ligament are often needed in orthopaedic surgery to repair injuries such as fractures and ligament ruptures. Through an ethical donor programme, they source and process tissues that can be transplanted into patients in need.
When faced with the sad loss of your dog you may like to consider the health benefits to other dogs from tissue donation. Advances in veterinary surgery, just as in human surgery, now mean that tissue donation can help cure conditions in other dogs and cats. Tissue donation may help recipients with broken bones, bone cancer, or ligament or tendon rupture. Your gesture of donation in a time of loss may have huge benefits for many other pets. You might like to talk to your family and vet about this decision. Some people do find their loss slightly easier to bear in the knowledge that they have helped other pets in need.
Veterinary Tissue Bank operates an ethical donor programme. "Our principles are very similar to human tissue donation and we have based many of our guidelines and protocols on tried and tested approaches from human tissue donation in the UK."
To authorise donation of tissues to the Veterinary Tissue Bank you need to sign a consent form - your vet can guide you on this. After euthanasia or death, your pet is placed in the care of Veterinary Tissue Bank. "We operate to the highest ethical standards to retrieve tissue carefully. If you wish for your pet to have a private cremation afterwards, we can arrange this and return the individually cremated ashes to you. In addition, you can enter your pet's details with a message in our remembrance gallery as a tribute to donors."
By Jenny Prevel
© D for Dog www.dfordog.co.uk
This article belongs strictly to D for Dog and we do not authorise the copying of all or any part of it.