Dog Vaccination Guidelines 2015
Have you ever wondered how often you should be 'booster' vaccinating your dog? It is not as clear cut as it appears, with different vets, insurance companies, kennels etc. insisting on different vaccination schedules for our pets. But who is right and what is best for the health of our dogs?
Dog vaccination guidelines (2015) recommend that our pet dogs should not be vaccinated with core vaccines annually. The recommendation for boosters is actually every 3 years or more.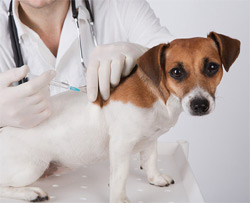 In 2013 I wrote a blog called The Dog Vaccine Booster Debate where we discussed whether annual boosters were really necessary for our pet dogs.
At that time noises were already being made suggesting that a two or three year gap between booster vaccinations was more than adequate and that excessive (annual) vaccinations could even compromise our pet's health. There was mounting evidence that most dogs could go for many years without needing boosters. However, many vets, insurance companies, boarding kennels and so on, were still suggesting and requesting vaccination boosters on a yearly basis, and still do.
Last week I came across the small animal vaccination guidelines and was keen to see what they recommended. It's important for all of us, as pet owners, to be aware of these issues. So let's get stuck in.
The 2015 guidelines for pet owners don't seem to be available online (the link doesn't appear to exist) so I have used the guidelines for vets. I can't imagine they could be very different other than maybe the terminology used.
I have specifically picked out the parts of the 45 page report that relate to us as individual dog owners in the UK. The report also discusses cats/kittens and high risk pets i.e. those at shelters. There is also particular mention of canine rabies vaccines which you should consider if you live in a country in which canine rabies is endemic.
You can click here to read the guidelines in full.
Vaccination Guidelines Group
The Small Animal Veterinary Association (WSAVA) Vaccination Guidelines Group (VGG) was established in 2006 following the need for global recommendations on best-practice for the vaccination of dogs and cats.
They publish global vaccination guidelines for veterinarians and for the owners and breeders of dogs and cats. They can be found online at WSAVA Vaccination Guidelines.
The guidelines are translated into several languages and are accompanied by pictorial disease fact sheets and over 100 frequently asked questions and answers. So if your vet is not up to date with regards the vaccination guidelines for pets, you can always point them at the most recent VGG guidelines. Don't be talked into annual boosters unless there is a very specific reason why your vet feels this is necessary for your pet, which is unlikely.
Important
Before we start, I want to be really clear about something. We are not discussing whether or not our pets should be vaccinated. There is little doubt that it is beneficial for all cats and dogs to be vaccinated and also to have their initial booster vaccinations. The contentious issue is that of annual boosters i.e. yearly booster vaccinations.
Guidelines for Core Vaccinations
The VGG defines core vaccines as those which all dogs and cats should receive to protect them from severe, life-threatening diseases. Core vaccines for UK dogs are those that protect against canine distemper virus (CDV), canine adenovirus (CAV) and the variants of canine parvovirus type 2 (CPV-2).
The VGG recommends the administration of multiple core vaccine doses to pups, with the final dose being delivered at 16 weeks or older followed by a booster at 6 or 12 months of age. The initial core vaccination should be given at 6-8 weeks of age, then every 2-4 weeks until 16 weeks of age or older. Therefore the number of puppy primary core vaccinations will be determined by the age at which vaccination is started and the selected interval between vaccinations e.g. when vaccination is started at 6 or 7 weeks of age, a course of four primary core vaccines would be administered with a 4 week interval, but only three would be required with an 8 or 9 week start and a similar 4 week interval.
Note that the puppy booster is mentioned by the VGG as being given at "6 or 12 months of age". Traditionally a puppy's booster vaccination was recommended to be done at 12 months old or 12 months after the last of the primary series of puppy vaccines. While this was convenient, coinciding with the pup's first annual health check, a puppy who did not respond to the initial vaccinations may be unprotected until their 12 month booster vaccination. The VGG has therefore re-evaluated this practice and now suggests that this possible window of susceptibility be reduced by bringing forward the booster vaccine from 52 weeks to 26 weeks of age. And after the 26 week booster, another core vaccine would not be required for at least another 3 years.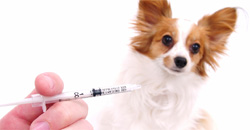 If you have adopted an adult dog or you have a dog whose vaccinations have lapsed, you may be wondering what to do.
An adult dog who had received a complete course of core puppy vaccinations and their 26 or 52 week booster but may not have been vaccinated regularly as an adult requires only a single dose of MLV core vaccine to boost immunity (Mouzin et al. 2004, Mitchell et al. 2012).
Similarly, an adopted adult dog (or puppy over 16 weeks of age) of unknown vaccination history requires only a single dose of MLV core vaccine to engender a protective immune response.
The guidelines are very clear on one important fact: Vaccines should not be given needlessly.
"Core vaccines should not be given any more frequently than every three years after the 6 or 12 month booster injection following the puppy/kitten series, because the duration of immunity (DOI) is many years and may be up to the lifetime of the pet."
So even every 3 years seems to be somewhat of a minimum. The VGG mentions above how immunity may last the lifetime of the pet and also suggests later on in the report that the 3 year guide could in fact be extended further:
"Following the 26 or 52 week booster, subsequent revaccinations are given at intervals of 3 years or longer".
In the FAQ part of the report I also found the following statement: "The time generally considered to be the minimum DOI for core vaccines is in fact 7 to 9 years for CDV, CPV-2, CAV-2".
Guidelines for Non-core Vaccinations
The VGG states that non-core vaccines are only required for pets whose geographical location, local environment or lifestyle places them at risk of contracting specific infections. Any chosen non-core vaccinations would need to be given annually or at least reassesed annually.
They have also classified some vaccines as not recommended, where there is insufficient scientific evidence to justify their use.
For all the details, please see the full report (link above).
In particular you might want to discuss the Leptospirosis non-core vaccine with your vet. Leptospiros is a zoonotic disease which means it can be spread from animal to human and vice versa. This potentially fatal disease, especially in puppies, is hard to diagnose and treat. There are many different strains, making it difficult to vaccinate against. Previously the Leptospirosis vaccine only covered 2 different strains (the ones most common to the UK) but a new vaccine covers 4 strains. Like a flu virus, it changes constantly.
One of the strains, Serovar Icterohaemorrhagiae (more commonly known as Weil's disease), is spread by rats, foxes and other infected animals in their urine. Talk to your vet about the risks and benefits of the Leptospirosis vaccine and annual boosters for your dog.
Serological Testing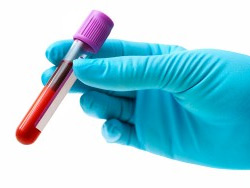 There have been advances in the availability of rapid and simple serological test kits that vets can use to detect the presence of protective antibodies specific for CDV, CAV and CPV-2. In other words, you can easily test to see if your dog is still covered for the core vaccines - canine distemper, canine adenovirus and canine parvovirus type 2.
These titre tests offer the perfect alternative to routine core vaccination every 3 years. At the moment the kits cost more than a dose of vaccine but at least you would know that your dog is not being unnecessarily vaccinated.
As an extra note, you can also use these test kits to test your dog before the 3 year period is up, if you are worried by the idea of not vaccinating annually.
Please note that while serum antibody titres are incredibly useful in determining vaccine-induced immunity in the case of CDV, CAV, CPV-2 and rabies in dogs, they are of limited or no value for other vaccines.
Vaccination Records
Let's quickly talk about what should be recorded when your puppy or adult dog is vaccinated. The guidelines are as follows:
At the time of vaccine administration, the following information should be recorded in the dog's permanent medical record:
date of vaccine administration
identity (name, initials or code) of the person administering the vaccine
vaccine name, lot or serial number, expiry date and manufacturer
site and route of vaccine administration
Annual Health Checks
The VGG strongly supports the concept of regular (annual) health checks for all pets. While the pet's annual health check may still include the giving of any necessary non-core vaccines that have a DOI of 1 year, the yearly health check should not be a time that the pet automatically receives annual booster injections. This does not however reduce the need for those all important annual health checks.
Reporting Adverse Reactions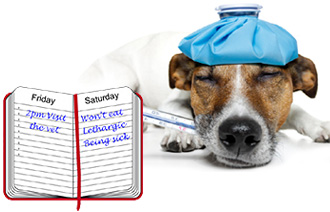 The VGG recognizes the importance of adverse reaction reporting schemes and suggests that "veterinarians should be actively encouraged to report all possible adverse events to the manufacturer and/or regulatory authority to expand the knowledge base that drives development of improved vaccine safety."
Vets have a lot on their plates and it could be that this side of things, the reporting of any adverse reactions, is slipping through the net. I therefore think that we should ALL report any adverse reactions, so there will be a record should it happen again to another pet.
To find out more about how to report an adverse reaction in your dog to medications, vaccinations, microchips etc. please see Reporting Adverse Reactions.
Reducing the Vaccine Load
"It is simply not possible to induce 'better' immunity in an individual animal by giving repeated vaccinations, i.e. a dog receiving a core MLV vaccine every 3 years will be equally well protected compared with one receiving the same vaccine annually" (Bohm et al. 2004, Mouzin et al. 2004, Mitchell et al. 2012).
The report recognises that we need to reduce the 'vaccine load' on individual animals. This would minimise the potential for adverse reactions to vaccines and would also reduce the time and financial burden on owners and vets of unjustified veterinary medical procedures.
Annual boosters are officially "unjustified veterinary medical procedures". Yes!
More Rational Use of Vaccines
The vaccination guidelines are "based on a rational analysis of the vaccine requirements for each pet". There is also a push towards marketing products with extended duration of immunity (DOI), to reduce the unnecessary administration of vaccines and thereby further improve vaccine safety.
"Both of these changes have necessitated a frame-shift in the mind-set of veterinary practitioners, which is now becoming the accepted norm in many countries."
Vaccination Guideline Summary
Core vaccination is a single dose of MLV vaccine (CDV, CAV-2, CPV-2) plus rabies in endemic areas. There is no need to give two doses. Revaccination should be no more frequently than every 3 years.
Non-core vaccines should be selected based on a risk:benefit analysis for that individual dog. Two doses should be given 2-4 weeks apart followed by annual boosters.
Serological testing can be used on any adult dog to confirm protection against core diseases and, if the dog has retained immunity, the owner can elect not to revaccinate that animal. Serological testing should be performed every 3 years (annually for dogs over 10 years old).
"Adoption of these new guidelines is not simply about minimising the risk of adverse reactions - it is about practicing better, evidence-based veterinary medicine and only performing a medical procedure (i.e. vaccination) when this is required."
Why Does this Matter?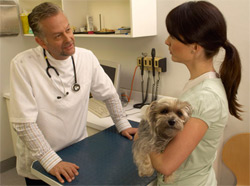 You may be wondering why any of this matters to you as a dog owner? If these guidelines are available to vets, why can't you just let your vet tell you what to do and when? Well, while there are many fantastic vets out there, I am sure that there are also some who do not keep up to date with various changes or are resistant to change for various reasons.
It is your dog and your dog's health potentially at stake here. It is your right to speak up should you need to and you can only do that if you have been given this kind of information. If your vet still insists on annual boosters then you are at least in a position to discuss these vaccination guidelines with them.
By Jenny Prevel
© D for Dog www.dfordog.co.uk
This article belongs strictly to D for Dog and we do not authorise the copying of all or any part of it.