Dognition - How Well Do You Really Know Your Dog?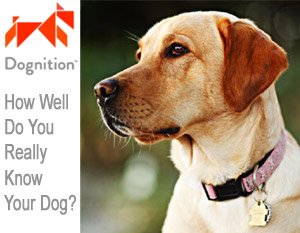 What is Dognition?
Dognition is a revolutionary service that lets you better understand and connect with your dog. If you want to know what's going on inside that furry head, Dognition can help.

Play fun, science-based games with your dog
Discover your dog's way of thinking
Connect with your dog in a whole new way

Dognition can help you understand your dog because they work with leading canine cognition experts from around the world. Unlock your dog's mysteries and abilities. What you discover might surprise you.

Fun, structured games lead to surprising new insights into your furry friend
Tell them about your dog in the online canine personality questionnaire. Then play science-based games with your dog and a friend. Game sets take as little as 10 minutes. Gain fresh perspective on five key aspects of your furry friend's mind. From how he reasons to how he reads you, to how well he remembers.

All you need is your four-legged buddy and everyday items, including treats, cups and sticky notes. Log the results on your computer, tablet or smartphone and receive your detailed online Dognition Profile Report.

The Dognition experience offers many science-based games to discover your dog's unique genius.

Watch an example game - Arm Pointing


Discover the maverick in your dog
Or Einstein or Socialite or Charmer... the results from the games will be calculated to reveal your dog's individual Dognition Profile. Which one is your dog?
A Dognition "Profile" paints a picture of how your dog sees the world. The Profile is calculated using your dog's problem-solving strategies as determined from the Dognition games you play, together with the results of your observations from the canine personality questionnaire.
Find out more or get started
Visit
https://www.dognition.com
How does Dognition "help all dogs"?
Dognition is a citizen science project, dedicated to working with non-scientists to gather valuable information about dogs around the world. By contributing anonymous data about your dog's responses, you are helping build a databank highlighting new discoveries, patterns and insights that can vastly improve the welfare of our furry friends.