Dogs Trust Launches Dog Emoji Keyboard
Dogs Trust has launched the first ever dog emoji keyboard. 23 of the most popular dog breeds in the UK are now immortalised in emoji form. All of them are based on real dogs looking for homes in Dogs Trust rehoming centres. How wonderful is that.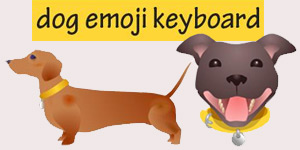 Through this new Emoji keyboard, the charity hopes to harness the power of the world's fastest growing language to highlight the variety of dogs that they see at their rehoming centres as well as allowing dog owners and dog lovers from across the globe to share and enjoy their favourite breeds in messages to friends and family.
Adrian Burder, CEO of Dogs Trust says "We see so many wonderfully different dog's every day, we wanted to share this with the public. We're delighted to launch Dogs Trust Emoji which will allow us to celebrate the wonderful variety of our UK population in a fun and creative way."
Free to download
Dogs Trust Emoji is available to download for FREE on Apple iOS and Google Android from today, 26th August 2015.