Nationwide Dog School Launch
One of the most common reasons for dogs being surrendered to rescue centres is behavioural issues. Complaints of barking, destruction and poor recall are just a few of the problems commonly reported. Yet, many of these behavioural issues can be quite easily solved, with help.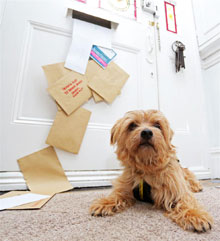 Research released by Dogs Trust has revealed that dogs with problem behaviours cost the average UK dog owner £353.28 a year, with shoes topping the list of victims. That's a cost of more than £4,000 in damages over the average dog's lifetime. Phew!
Nearly a third of dog owners identified that their dogs showed destructive behaviour when left alone, which could be avoided if dog owners took the time to understand their dog's behaviour instead of simply branding them as 'naughty dogs'.
We can't expect dogs to be born fully trained with impeccable manners, yet, as a nation, we seen to shun professional help, preferring to attempt dog training ourselves. Sadly, this is often not very successful.
Dogs Trust received nearly 9,000 calls from owners looking to rehome their dogs due to behavioural problems, with research citing 1 in 10 dog owners have given up their four-legged family member because they couldn't cope with their dog's behaviour.
Despite the cost and headache of living with a poorly trained dog, of the 8.5 million dogs in the UK, almost a million of those dogs have had no formal training.
The nation's dogs are in a dreadful state and something needs to be done.
Dog School
This week saw the launch of the first Dogs Trust Dog Schools - a national network of experienced trainers offering dog owners fun, practical, expert training and advice based on the most recent advances in dog behaviour science.
At Dog School owners learn how to teach their dog new skills using positive reward based training, and find out lots about dog behaviour to help them develop a trusting relationship and prevent the kind of problems that cost the nation over £3 billion.
Don't assume that your dog can't learn or ever change. They can! Dog School equips dogs with the skills to make the right decisions, even in the most tempting of scenarios.
Have a quick look at the video below. You'll be very impressed with these Dog School graduates. They were given the chance to show off their good behaviour as they were put through a series of tempting trials.
Using positive, reward based training, all the Dog School graduates you see above were able to refrain from attacking the post and could happily sit by their owner whilst resisting the lure of a juicy steak. These are temptations untrained dogs would find difficult to resist.
Would you like your dog to be that well behaved?
Dogs Trust Director of Canine Behaviour and Research, Dr Rachel Casey says: "We want to give owners the right information and skills to be able to live happy and fulfilling lives with their dogs."
"Dog School is different from traditional training classes as it teaches your dog to fit happily into your family life. Although this includes training things like sitting when asked and coming back when you call, it goes much further. We help your dog learn how to behave in everyday situations, such as when you pass other dogs in the street or need him to settle down when you're watching TV. Dog School is also about making sure you develop a strong bond with your dog, understand his behaviour, and know how to react if things don't go according to plan."
Dog School will help you form a life-long bond with your dog, have a good understanding of their behaviour and avoid common pitfalls that can lead to problems.
Don't let your dog become another statistic
Enrol in Dog School today!
For more information on Dogs Trust Dog School, including how to register, visit dogstrust.org.uk/dog-advice/dog-school