Dogs Trust Junior Canine Carer Competition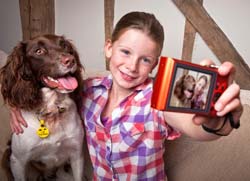 Dogs Trust has announced the launch of its 2012 Junior Canine Carer competition with a nationwide search for the best photo capturing "A Dog's Day".

The UK's largest dog welfare charity, is urging budding photographers aged 7-13 to get snapping to be in with a chance of winning a top of the range Pentax camera (Pentax Optio RZ18 digital compact camera) and a behind-the-scenes, hands-on day at their nearest Dogs Trust rehoming centre.

With most children now very 'au fait' with using a camera and able to add all sorts of effects to even the simplest of pictures, Dogs Trust is challenging children to flex their fingers and creative minds to zoom in on life as a dog.

Says Clarissa Baldwin, Dogs Trust CEO:

"We wanted to give children a chance to capture the fun that dogs can bring to our lives. We can't wait to see what images are captured and imagine the stories they could tell!"

"We have seen through our extensive education campaign that there are many passionate young dog lovers. We created the Junior Canine Carer competition as a way to give children a chance to have a hand in helping the dogs in our care and learn more about the work we carry out."

If you think you have what it takes to be a Dogs Trust Junior Canine Carer for a day and would like to enter the competition, simply take a picture of your dog (or a friend or family member's dog) going about his or her normal day with a short caption.

You can send your photo to Dogs Trust in one of three ways: By post to: Dogs Trust, Junior Canine Carer competition, 17 Wakley Street, London EC1V 7RQ (please note that they are unable to return photos); by email to juniorcaninecarer@dogstrust.org.uk or you can upload your photo onto the Dogs Trust Junior Canine Carer album on Flickr www.flickr.com/groups/jcc2012

Closing date for entries is 1st December 2012.

Your photo can be as simple or as creative as you like, with or without your dog in shot and taken on a camera or a phone. You have until the 1st December 2012 to enter so snap away!