Dogs Trust Launches Dog Top Trumps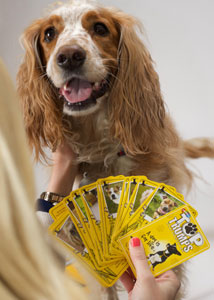 Dogs Trust, the UK's largest dog welfare charity, is giving much-loved retro family favourite Top Trumps a new leash of life by launching its very own edition of the popular game.
Featuring former Dogs Trust dogs of all shapes and sizes, this limited edition game has been designed as a fun way for families to learn more about the variety of dogs that Dogs Trust cares for whilst helping to bring to life the joys of rescue dogs for the next generation of dog owners. It is a great way for families to get a glimpse of the variety of rescue dogs always looking for homes.
As the first animal welfare charity to create a Top Trumps game, Dogs Trust is now hoping that this new twist on a timeless classic will make its way into the homes of dog lovers everywhere.
Elvira Meucci-Lyons, Head of Community and Campaigns at Dogs Trust says:
"We are thrilled to be launching a limited edition Dogs Trust Top Trumps game. Top Trumps is a classic family favourite loved by generations and it's amazing to be a part of such a phenomenon. The cards are packed with fun facts about Dogs Trust dogs old and new who have since gone on to find loving homes."
Elvira continues,
"The cards will also be used within our Education Programme which helps to teach the dog owners of the future about responsible dog ownership through free school workshops. We feel that Top Trumps is a great way to help raise awareness of the different types of dogs we care for every day at our rehoming centres. Whilst the dogs included have all come up trumps with a new family to love, there are still many more in our care who would love to find a home."
Dogs Trust Top Trumps cards are on sale for £4.99 and will be available to buy online dogstrust.org.uk/support-us/our-shops and at the Dogs Trust charity shops across the UK.
All proceeds will go towards the care of dogs in their 18 rehoming centres in the UK and one in Ireland.