Bluepark Featured Online Shop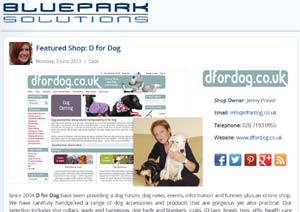 We are proud to say that D for Dog has been chosen as a Bluepark Featured Shop.

Cate of Bluepark said:

Introducing our Featured Shop for June - D for Dog - who has been with Bluepark for nearly 2 years. Jenny's passion for all things canine is undeniable and she has managed to turn that passion into a successful business, which in this market is a particularly hard thing to do. The online shop has appeared in numerous dog magazines, as well as Vogue, The Sunday Times and on TV's Midsomer Murders.

To view the feature visit Featured Shop D for Dog or click here D for Dog Featured Online Shop (size 695k PDF requires Acrobat Reader and opens in a new window).