Festivals of Dogs 2019
The Festivals of Dogs are dog shows with something for everybody. Exciting attractions, fantastic talks, demonstrations and shopping.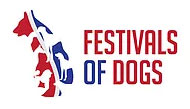 Festivals of Dogs are events taking part across the UK from April to November 2019.
There will be amazing demonstrations in the main ring plus a host of activities and attractions including chase the bunny, have a go, scurry, dog agility, dogs have got talent and best dressed dog.
There are numerous show dates and locations throughout the year.
Framlingham 13th and 14th April​
Weald (Essex) 5th and 6th May
Norfolk (Norwich) 18th and 19th May
Nonsuch (Cheam) 26th and 27th May
East Anglian (Thetford) 1st and 2nd June
Bucks 13th and 14th July
Kent 25th and 26th August
Wimbledon 21st and 22nd September
Essex 28th and 29th September
Autumn (Suffolk) 19th and 20th October
Norfolk (Norwich) 2nd and 3rd November
East Anglian (Chelmsford City Racecourse) 16th and 17th November
Visit festivalsofdogs.co.uk