How To Find The Best Dog Lead
When buying a dog lead you might not have previously put a great deal of thought into it. As long as it has a handle on one end and a clasp on the other, what more do you need to consider? Well first and foremost it has to be strong enough for your dog's size, weight and pull strength and it needs to be of a good quality so that it is safe, secure and will last some years. But how often, when purchasing a lead, do you think about your own comfort? That is important too. Your dog may be on one end but you are on the other, so a handle that you feel comfortable holding is a must.

So let's talk dog leads. What are the options?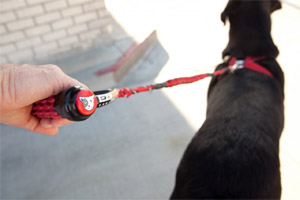 Probably the first thing to consider is what length the lead needs to be. This can depend on the size of your dog and whether you need them close or with a little free rein. For very large dogs you might only want a 12 inch lead and for small to medium sized dogs you would probably be looking for something that is 2-4 feet in length.

I would also recommend considering the size and strength of the clasp. Quite often the size of a lead will reflect the expected size of the dog it is going to be used for. The clasp is very important. It connects the lead to your dog via their collar or harness so it is important that it is a quality clasp and is a size designed to withstand the weight and pull strength of your dog. Small leads, although they may be just as long, will often have small clasps and may not be safe for walking anything other than toy dogs. Medium and large leads will often have much larger, sturdier clasps built to take more weight and strength. So don't forget to check out the lead clip.

If you like to keep your dog close when walking by roads or in busy areas but give them more slack when it is safer, you might like to consider buying a dog lead extension. They clip onto the end of the existing lead to increase the length. There are also lead extensions, called couplers, that allow you to walk two dogs on one lead.

Or for real lead length versatility, how about one of the multi-purpose leads that are available on the market these days. No, they don't make the coffee for you in the morning but they do offer some pretty nifty functions. They can extend and shorten easily, serve as a double lead for dual dog walking, act as a tether and also can be used for hands free dog walking. Wow.

What your chosen dog lead is made of is relatively unimportant (as long as it is strong) unless your dog is into activities such as swimming or even rolling in the mud, which can rot or simply ruin some leads. There is a lot of choice, whether your dog likes a dainty stroll or a great adventure. I personally am a big fan of collar, harness and lead sets that I can pop in the washing machine.

The next thing to look at is the handle of the dog lead. Different people feel comfortable holding different types of lead handle so be sure to take what you like into account and pick one that suits you. My particular favourite is the handle on the Red Dingo dog leads. They are soft, padded and strong and I find them suitable for walking almost any kind of dog. Perfect.

Finally I wanted to mention bungee leads. No, they are not so you and your dog can fling yourselves off a cliff for thrills
Bungee leads have a bit of stretch in them. This is fantastic if your dog is a lunger. Dogs that yank and sporadically stop and then pull again can take a real toll on your arm and shoulder. Do you ever come home from a dog walk feeling like one arm is now longer than the other? Me too. Stretchy zero shock leads can take some of the strain.

That's just about everything sorted but one more thing many of us love - the matching set. And why not. I'm not a big one for shoe shopping but a matching collar, lead and harness set for my dogs is always irresistible. Nearly all our leads come with matching collars and harnesses, so your pooch can step out in style. And quality doesn't have to cost the earth either. We don't sell anything we don't believe in, so you know you can trust a purchase from us and you will find what you like at a price that suits.

Enjoy shopping for the perfect dog lead and just ask if you have any questions.

By Jenny Prevel

© D for Dog www.dfordog.co.uk
This article belongs strictly to D for Dog and we do not authorise the copying of all or any part of it.