How To Select The Perfect Dog Bed
A good bed is important to us humans and is just as important to pets, especially when you consider that the average dog sleeps about 13 hours a day. Wow, that's a lot of snoozing. While cats are often happy to drape themselves over just about anything, dogs are really fond of their creature comforts. A good quality dog bed is therefore something we never recommend you skimp on. A comfortable and warm bed that suits your dog's needs is so important for their health and well-being. That doesn't mean it has to be expensive but it does mean that you have to spend some time considering what the best bed would be for them.

Many beds sold in pet supermarkets and shops are made of thin, flimsy foam that provides very little padding or support. Often the covers are not removable and you will likely end up with a bed that your dog doesn't enjoy sleeping in and you can't easily clean. There are many different types and designs of bed available here at D for Dog, so no matter what your dog's needs are we will have the solution.


Here are some of our recommendations when purchasing a dog bed.

Firstly, consider your dog's favourite sleeping position. Some like to curl up, in which case a high sided or donut bed would suit them. Others prefer to stretch out and lie flat, which means they would probably find a cushion, sofa, lounger or mattress bed more comfortable.

When considering what size to get, a really easy way to get this right is to surreptitiously measure around your dog while they sleep in their favourite position. This will give you a good idea of how big or small you need the internal bed dimensions to be.

If you think you already know your dog's favourite sleeping position, think again. If you have always provided your dog with a small or high sided bed you may think they like sleeping curled up. Have you ever arrived home to find Fido sprawled out on your sofa cushions, snoring soundly. It might be that they prefer that position and would like a quality mattress bed of their own. Alternatively if your dog curls up into a ball in one corner of their current bed, it could be too big or not cosy enough for them to feel safe and secure.

Think about what covering and other functions you want the bed to have. Older dogs or those with joint issues may benefit from an orthopaedic or memory foam bed. Adventurous dogs may suit a waterproof option that is easy to clean and care for. Tough beds with heavy duty coverings are great for pups or dogs who like to dig up their bed before selling down. Whatever your dog's personality, there is sure to be a bed that suits them.

Finally, one other aspect of dog bedding worth mentioning is the faithful dog blanket. Transform your dog's summer bed into a warm, cuddly winter retreat quickly and easily with a soft fleece dog blanket. Perfect for those chilly evenings and you won't have to buy one bed for summer and another with a warmer finish for the winter.

Once all of this has been considered you can of course think about your home. These days dog beds don't have to be boring or ugly. Many come in beautiful styles, luxury finishes and designer fabrics.

We hope this has helped guide you when it comes to your next dog bed purchase. Spend some time browsing the selection of available products and do not hesitate to contact us should you have any questions.

By Jenny Prevel

© D for Dog www.dfordog.co.uk
This article belongs strictly to D for Dog and we do not authorise the copying of all or any part of it.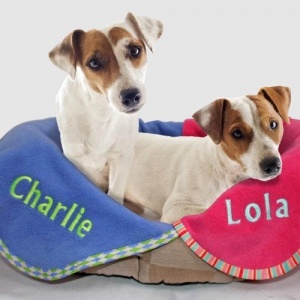 Personalised Dog Blanket
from £20.00