Fire at Manchester Dogs' Home
We all sat here saddened and stunned last night as we heard reports about a fire at Manchester Dogs' Home. The Manchester Evening News reported that police and firefighters were at the scene, none of the home's staff had been injured but tragically some dogs had already perished in the fire.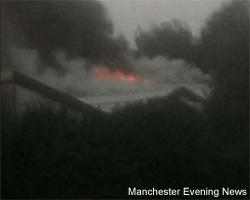 The incredibly sad news this morning is that at least 53 dogs have died in the fire. It also looks like this was an act of arson. A 15 year old boy is being questioned.
Manchester Evening News set up a JustGiving fundraising page so we could all help raise money for Manchester Dogs' Home - visit Just Giving
Last night the total was £10,000. It is astounding, amazing and truly heartening to see that the total at 9.30am is £350,000 and rising.
We can't say what was going through the arsonists head… if anything. But what we do know is that one stupid, thoughtless or evil person is no match for the amazing people who have all pulled together at this shocking time.
From the moment the fire was reported, people were arriving with crates and blankets for the dogs and offers of help. Foster care, items and health care were all being offered. Two hero dog lovers even risked their lives, running into the blaze and rescuing 20 dogs at the height of the fire. A chain of people moved 150 dogs out of the dog's home to safety.
Detective Inspector Neil Jones, said: "The response from the public has been overwhelming and this is clearly an incident that has tugged on the heart strings of many. A number of people, including police officers and staff were quickly on the scene and put their life on the line to help with the rescue effort.
"We are determined to establish exactly how and why this fire started and will be working closely with our partners from the fire service.
"If anyone has any information about this fire I would encourage them to contact us."
Anyone with information is asked to call police on 101 or the independent charity Crimestoppers anonymously on 0800 555 111.
Manchester Dogs' Home have released a statement this morning and have thanked the public for their 'huge support'.
They say: "The staff and trustees of Manchester Dogs' Home would like to express their enormous gratitude for the huge support received from the public following the devastating fire on site during the night.
"All of the surviving dogs are now in transit – the majority of them going to sister site Cheshire Dogs' Home near Warrington - and those in need of veterinary treatment have been receiving it."