Funny Animals Sing Jingle Bells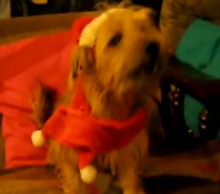 Those clever folk at Talking Animals have done it again. Last year we chose their video of animals singing the 12 Days of Christmas. This year the Animals of YouTube are merrily singing "Jingle Bells".
Many animals from cats and dogs to a horse, ferret and um... a caterpillar (to name but a few) sing this much loved Christmas tune.
Very festive and wonderfully cute and funny in equal measure. We love it.
Happy Christmas everyone.