Dog Christmas Feast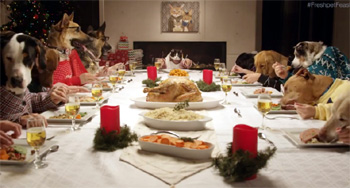 You can't have too many dog funnies at Christmas and I couldn't resist this one. This wonderful video features USA shelter animals holding a holiday feast with a little help from human hands.
The dogs and cat are seen dining during a holiday meal, with personas that match your typical holiday family dinner characters. There is plenty of diversity with 'twin' German Shepherds in specs, a successful businessman, a cheeky teenager, and even a 'foreign dog' using chopsticks.
One of the goals of the project was to help showcase some of the shelter animals that are available for adoption and waiting for loving homes. Pet food company Freshpet teamed up with the Humane Society of Utah and invited 13 rescue dogs and a cat to the dinner table for a hilarious holiday feast. All adoption fees for the animals featured in this video are covered. Wonderful.
Happy Christmas everyone.
I watched the 'making of' video and the dogs looked happy and it is all for a good cause. Let's hope some get a home from this venture.
All these dogs (and the cat) need loving homes. They are in Utah so no point us falling in love with them, but your own best friend is in a rescue centre in the UK too, so pop along after Christmas to a legitimate rescue centre near you.