Dog Prepares for Santa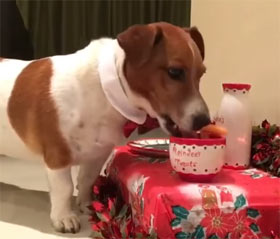 I love looking for Christmas dog funnies and was tickled by this one.
This little chap is so adorable as he prepares for Santa's visit on Christmas Eve night.
First, snacks for Santa's reindeer. Lots of healthy carrot sticks. Very good. And he doesn't eat a single one.
Then some snacks for Santa himself. Yummy. A little bottle of milk completes the table. Awwwww.
Then he puts himself to bed and waits for the big day. Adorable.
He wakes up the next day to find that the snacks have been enjoyed and presents have been given.
Happy Christmas everyone.