What to Look For When Getting a Dog
When getting a dog, two things are of great importance. Firstly the breed of dog you choose (or the dog's likely personality, energy levels and needs) and secondly where you get your dog from.
The Breed and Personality
The dog you choose needs to be a breed or type of personality that suits you, your family and your circumstances. Never choose a dog on looks, current fashions or what is closest to hand. Always research different breeds thoroughly before deciding which dog is right for you.
There are lots of books, dog magazines and websites that describe the different dog breeds. Once you have a short list, see if you can speak to owners of that breed to get their personal view of the dogs. You can do this online or at many of the dog events that take place across the UK each year. Discover Dogs, organised by the Kennel Club, is a great event for getting up close and personal with many breeds.
"The event provides a fantastic opportunity for visitors to meet, greet and discover over 200 different breeds of purebred dog, and learn all about the distinctive personalities, traits and looks of each breed and how to buy the perfect canine partner."
Your local dog rescue centre will also be happy to discuss breed choices with you. A chat with them to discuss the perfect dog for you is always worthwhile. They may point you in the direction of a dog you hadn't yet considered or even the perfect cross breed just waiting for a loving new home.
Once you have chosen your perfect breed of dog, if you are not taking on a rescue dog, you will be looking for a reputable breeder. The place you choose to get your puppy from is of paramount importance.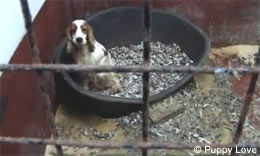 Puppy Farms and Illegal Breeders
Each year thousands of dogs are bred illegally in the UK, often in appalling conditions. A puppy farm is the general term given to a place that breeds dogs with little or no regard to the welfare of the dogs and puppies and with profit as the main goal.
As puppy farms exist purely for profit, it is likely that corners are cut and conditions inside these puppy farms are often quite horrific. The puppies and the mothers will show obvious signs of neglect and will be starved of any affection or humane care, and have limited or no access to the outside world. The mothers are treated as mere breeding machines, giving birth to litter after litter of puppies and living in confined and lonely conditions.
Closely related dogs are often bred with each other out of convenience and economy meaning that recessive health problems are much more likely to surface. The puppies often have poor health and no socialisation. This in turn means that the new owner will likely end up with a dog with health and/or behavioural problems. You may have purchased your dog cheaper than from a reputable breeder but the long term costs of ill health and behavioural consultations as well as the emotional costs to you will soon out-weight any initial cash advantage. Look out for signs of puppy farming and make sure you never buy a puppy from one of these places.
But beware. The puppies from puppy farms are usually sold to dealers who then sell the puppies on. Puppies bred from puppy farm situations are most likely sold via classified ads (e.g. Loot, Yellow Pages and Exchange & Mart) or sold in pet shops and department stores.
Clarissa Baldwin, Dogs Trust Chief Executive says:
"Puppies bought from the adverts in local newspapers, or the pet shop on the high street, could so easily come from a puppy farm. Even a pedigree certificate or registration is not necessarily proof the puppy has been properly reared or bred. As a nation of animal lovers, we urge people to carefully consider where they get their dog from."
How to Avoid Buying from an Illegal Breeder
- never buy from a pet shop.
- never buy from the classified ads.
- never buy from anyone advertising several breeds of dog.
- make sure that a puppy is always seen with its mother in its home environment.
If a breeder offers to meet you with the puppy then they are most likely a puppy dealer or illegal breeder. If you are travelling to pick up the pup, the illegal breeder might say they will meet you half way but this is not to do you a favour. Think about why you are not being offered access to the pup in its home environment.
Reputable Breeders will
- care about the pup's potential new home
- ask you lots of questions
- often have a waiting list
- be dedicated to producing quality dogs
- be knowledgeable about the breed
- carry out genetic testing
- be willing to discuss whatever faults the dogs have
- allow you to see the litter and the mother
- allow you to see pup's the living conditions
- make training/socialisation recommendations
- have a contract with you
- offer a health and genetic disease guarantee
- take the dog back if needs be
- offer advice during the life of the dog
Breed Clubs
If you are interested in a particular breed, contact that breed club who should be able to provide you with a list of reputable breeders as well as advice about that particular breed.
Finally
If you come across a puppy living in poor conditions potentially with an illegal breeder, don't buy the puppy just to save it. If you do you will only be fuelling the trade and paving the way for that 'breeders' next litter.
Dogs Trust says "If you believe that the dogs are suffering physically as a result of cruelty or neglect, contact the RSPCA and let your local council know. Please also contact us, here at Dogs Trust with as many details as possible, so that we can add the establishment to our list of suspected puppy farms."
By Jenny Prevel
© D for Dog www.dfordog.co.uk
This article belongs strictly to D for Dog and we do not authorise the copying of all or any part of it.