A Gift For Rescue Dog Freddie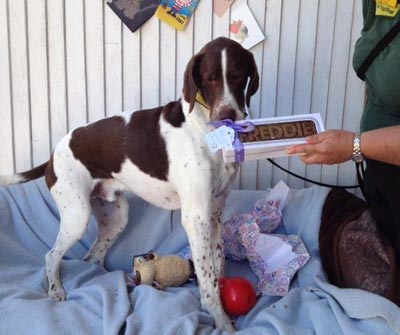 This week we received a wonderful email from Dogs Trust Snetterton. One of their Sponsor dogs, Freddie, had received a gift box of personalised biscuit bones. They were sent to Freddie on his birthday from a kind D for Dog customer who is a Dogs Trust supporter.

Dogs Trust enclosed a fantastic photo of Freddie happily inspecting his gift (see right).

The message from Dogs Trust to the generous supporter was as follows:

"Thank you for this lovely gift. Freddie very much enjoyed and appreciated it. You will see in the photo Freddie was delighted with his beautiful biscuit and so excited to receive this lovely gift."

As if that wasn't lovely enough we then heard from our friends at Beach Dog Bakery telling us that Dogs Trust had put the photo on their reception desk and that a few more biscuits have since been gifted to other dogs at the rescue centre. Isn't that fabulous.