Golden Oldies - The Joys of a Grey Muzzle
It is a sad fact of life that older dogs are often overlooked by potential rehomers and are left in rescue, while pups and younger dogs get all the attention and forever homes. These older dogs, so often overlooked, are in desperate need of a home in which to enjoy their final years.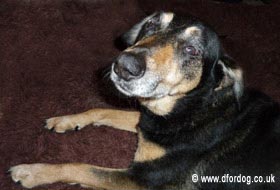 Of course most people find puppies and young dogs irresistibly cute, with their huge eyes and boundless energy.
Personally I melt at a greying muzzle and gentle gaze as much as others melt at puppy eyes. Puppies require a lot of hard work if you want to end up with a well behaved and balanced companion. Yes, raising a young pup has its rewards but rehoming an oldie has many rewards too, that should not be underestimated.
Sadly many older dogs in rescue are there through no fault of their own. Many have had elderly owners who can no longer care for them, owners that have passed away or have had to leave their homes, unable to take their beloved companion with them. Sometimes the older dog can end up homeless because of divorce, a new baby, or other changes in home circumstances. Even more upsetting are the cases of dogs who end up in rescue simply because they are old and the owners trade them in for a younger dog. These poor dogs have committed only one crime, to grow old.
Adult dogs and oldies are great for people who want to bypass those crazy puppy years. Many people forget or do not realise how much hard work a young pup can be. Depending on your experiences or circumstances, you may not have the inclination, time or energy to go through all that puppy lark.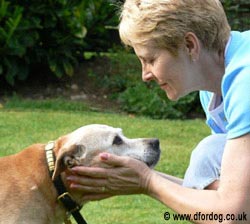 Older dogs can be such fantastic companions and can be very suited to families that might not otherwise be able to take on say a younger dog. Older dogs are often content to have a cosy warm place to sleep and relax during the day. They don't need intensive full on care and attention, socialising and toilet training. They won't be teething so are unlikely to chew everything in sight, they won't demand your constant attention and they won't need long walks twice a day. Of course there are exceptions. Some older dogs are still fit and active. There really is an oldie to suit anybody.
Golden oldies will most likely have benefited from some kind of training in the past and they tend to be calmer and more relaxed, content with quiet companionship. And again, it is important to bear in mind that these older dogs are often in rescue for reasons other than behavioural problems or faults of their own.
Imagine the shock of finding yourself in a rescue centre after years of life in a family home. These oldies are often confused and pining, in unfamiliar surroundings. It is so heartbreaking.
Taking on an oldie does not mean that you will only have a few months or years with your new friend. Many years of happy companionship can be yours, together. Do not fear if your rescued oldie comes to you with a few bad habits. You most certainly can teach an old dog new tricks. In the confusion of a new home, toilet training can sometimes be temporarily forgotten with an oldie, as it can with any rehomed dog, but this is only part and parcel of upheaval and is often easily sorted out with kindness and a little time.
Oldies do of course come with an increased likelihood of age health problems. If you speak to the rescue organisation you may find that that can offer some assistance.
Do not write off the oldies and do not underestimate the feel-good factor that comes with rehoming a previously overlooked dog. Oldies are so grateful for a loving home and they will show it. There is such joy to be had from witnessing their transformation. Puppies, like children, often take you and their loving home for granted. You really cannot underestimate the pleasure you get as an adopter of an older dog, knowing you have given this elderly animal a warm, loving home during their final years. The love they will give you in return cannot be bought in a pet shop or from a breeder.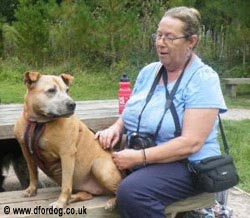 If you already have a younger dog and are considering a companion for them, an oldie could be the perfect choice. An older dog can make a great companion for a younger dog who might be insecure or excitable. The maturity of an older dog can have a calming and reassuring influence. In fact, the older dog can have a similar affect on his human companions. It is very relaxing to sit quietly, enjoying the sedate company of your golden oldie.
An older dog can be the answer if you yourself are getting on in years. Older age need not mean the end of dog ownership. In fact, dog ownership has so many health benefits and is great for a persons well being. You can slow down and grow old together. Studies strongly suggest that companion animals significantly improve the lives of older people and pet owners are often shown to be more satisfied with life than non-pet owners. The benefits of caring for a pet are physical, psychological and social. Getting older should not have to mean giving up things that are important, such as dog ownership. Paring oldies with OAPs can have great benefits all round.
Some people understandably worry about only having their adopted oldie for a few years. The thought of heart ache looms. But try not to let that put you off adopting an oldie. Even a dog who is 8 years old at adoption can live for another 6 or so years, depending on breed. Those years you do have together could be the best the dog has had in his or her life, and possibly yours too. Concentrate on the good times you can have together and the happiness you have given to a deserving dog. The oldie will never have those last few blissful years without your help.
Charities
Some dog charities are devoted specifically to finding homes for the older dog while other large dog rescue charities have a high amount of oldies in their care.

Dogs Trust, the UK largest dog rehoming charity, has approximately one fifth of their dogs over the age of 7 years. Rescue dogs love you more, rescue oldies love you even more, says Dogs Trust. The Oakfield Old Dogs Home is a Dogs Trust retirement home for OADs (old-age dogs). The Oakfield Oldies are available of course for adoption but also for sponsoring.

Of particular note is the Oldies Club, a dog rescue run solely by volunteers that specialises in rescuing and rehoming older dogs aged 7 years plus.
"Although often overlooked, older dogs make great pets" says the club's publicity officer Jules Haworth.

UK national dog adoption and rescue dog rehoming website Dogs Blog feature rescue dogs from more than 60 charities and rescue centres across the UK.
On their website you can specifically search for dogs 6 years plus.
How you can help
Next time you consider a rescue, think seriously about adopting an oldie. Help spread the word about what fantastic companions oldies make.
Consider helping by fostering an older dog. Older dogs need and deserve to be in a loving home environment and you really will be helping them to find new homes. If you are not in a position to foster or rehome an oldie, you can still help by offering your time or by sponsoring a dog.
Real Life - Owner Stories
In March 2006, we adopted two SBT X oldies to join our SBT Tess, then nearly 6. Tammy was 10 and Tyson, 9. They had been rescued from a flat where they had been living in a bathroom. Because of the conditions they had been kept in, we had to toilet train them. It required patience, but after about 3 weeks they were clean. They were also very fearful when out in the street, but in time, they realised that nobody was going to hurt them. During this time, they would always welcome anyone who came to visit, with love. None of this was their fault, it was the way they had been living before.
Tammy died in January 2009, aged 13, and I truly believe that her last 3 years were the happiest she'd ever had. They showed us unconditional love from day one. Tyson continues to do well, and lives happily with Tess, who, at 9 1/2, is an oldie herself now. Would I adopt an oldie again. YES, in a heartbeat.
Submitted by Sue - London, UK
Bud came to live with me when he was around the age of 10. During the previous 3 years he had been in and out of Dogs Trust 3 times - surely there must have been some major problem with him??? No!!!!!!!!! He had lived on the streets for a while so his scavenging trait was strong to start with but he soon realised I became upset when he wandered off and stopped.
Alice was around 8 when she came as a short term foster for the Oldies Club. Within a couple of days she had persuaded me that in fact she was in her forever home.
Toastie was at least 10 when he was dumped and taken to the safety of Dogs Trust. In fact the vets think he could have been up to 4 years older than that.
All of these dogs settled beautifully into life at my house, mixed with my other dogs (large and small, young and old) and ALL of them passed their assessments to become Pets as Therapy dogs, bringing unconditional love to lots of people who they visited. Toastie (along with my greyhound) was involved in therapy for a little boy who had been scared by a dog, who went on to become confident enough to stroke calm dogs.
Submitted by Georgina - West Wales
Sadly no longer with us we adopted Kim aged 10 years. Her older owners had passed away. One of our collies had died suddenly looking for a rescue dog and border collie rescue passing comment we will not be able to rehome this dog because of her age. We drove from Hessle where we lived to Sheffiels to visit this girl in her temporary home. All she wanted to do was bring us her ball, did we want to play... yes we did. We had 5 happy years with her, she taught us lots of games. Kim loved our other collie Blue. I would say she was a joy and we are happy to have shared our lives with her. No regrets and yes we would do it again.
Submitted by Mary and Steve - Isle of South Uist
We took in an oldie Zack he was the most adorable labrador. Alas we only had him 6 months but he had a great 6 months and so did we. Then we took on an old cat we had her for 4 years we lost her last week she was grand old lady of 16, and yes I would still have another oldie.
Submitted by Maureen - Spennymoor
In June of this year my two and a half year old Staffy pup died from an undiagnosed congenital heart defect. As dog lovers and owners I do not need to describe the pain and loss we felt. Following Lolly's death I vowed 'never again'. I packed Lolly's things to donate to the dog rescue centre. I liked the thought of her things going to dogs in need. When I was there I thought I would just have a little look at the dogs ...... The first pen I looked in had the most comical, most grey, most endearing and adorable Staffy face looking back at me. That is when Arnold decided he would own me. I cannot begin to describe the delight he has bought to our house. Arnold was found as a stray with a terrible wound on his leg. He is estimated to be 10 - 11yrs old. I am currently looking for a suitable elderly lady friend for him - Oldies Rock!
Submitted by Claire - Hampshire
We've adopted five Oldies from Dogs Trust in the last three years. The first was Dixie, still with us and now 16 years old, then a few weeks later we adopted Missy. She was a sad case - had been kept in a garage because she smelled. This was true, she did, but the smell was caused by a skin complaint. Treatment helped her a lot and she gradually changed from being a sad itchy dog to one that loved her runs, playing ball and swimming with Dixie. After she died we adopted Candy, aged now 13 who is still going strong, and Deano (about 14) who unfortunately died after we had only had her six weeks. Next dog was Ted, (a big crossbreed) who had been a stray. We guessed his age as about 14. He was a very loving old boy that we had for 18 months. So - to sum up - taking on an Oldie is definitely worth it. It's very sad when a dog dies, but we recognised from the beginning that we would probably only have them for a short time. I would still definitely recommend adopting an Oldie - they're Special!
Submitted by Chris - Blackpool
Gizmo was one of the 186 dogs that was taken from a house in Manchester after being caged for three years. He was thankfully taken to the Dogs Trust Merseyside. He was homed twice and returned to the Dogs Trust as there was no interaction. We had not long lost another 'oldie' dog and when we saw Gizmo we knew he was for us.
As we had so many dogs from Dogs Trust they agreed we could take Gizmo home. For many months we found him very hard work as he was traumatised from being caged, so we had a behavourist come to him for nearly a year, and working together we could see a way forward for Gizmo, it was just going to be a lot of hard work and oh so much love.
We really adore him, even with all his problems. The slightest noise he would run and hide, this would have been great if it was for fun but it was sheer fear. At this time Gizmo was five years old and we were offered a shit-zu, who was going to the Dogs Trust. We thought this may be our answer to Gizmos, having another playmate to be with. It took time but they really turned out to be the best of friends, Gizmo doing everything Benson did, they were wonderful watch. We were lucky to have Gizmo for another 10 years but sadly he had heart failure last year and we had him cremated, but we think it is time to look for another oldie for Benson and ourselves. We have so much love to give and it has to be an oldie for us. I know we will soon find a little dog to love, it's just having to travel halfway round the country if we see that special dog, but we understand the reasons.
Submitted by Wendy - St Helens, Merseyside
I got my rescue dog Rupert (Rupes for short) from Manchester dogs home in November 2011 after I saw him on the oldies website. I got him home and it was like he had always been here, soon made himself at home. First night I left him downstairs he never cried or tried to come upstairs, in fact he's never been up since I had him. He's clean in the house and can be left on his own with no disruption. What a great dog he is.. I love you rupert. He's 14 years old too.
Submitted by Alison - Bolton, Lancashire
By Jenny Prevel
© D for Dog www.dfordog.co.uk
This article belongs strictly to D for Dog and we do not authorise the copying of all or any part of it.