Greyfest
Greyfest is a weekend aimed at Sighthounds and their friends. If you love festivals and dog shows, this event combines them both into one great day out.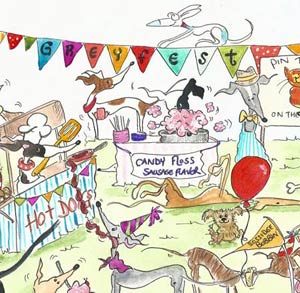 In its 4th year, Greyfest attracts visitors and stallholders from many corners of the country.
A fun part of the weekend is camping and with live music both afternoons and Saturday evening there is plenty of entertainment.
Greyfest is a Greyhound and Sightound gathering but all breeds are welcome.
17th and 18th August 2019
Sheppey Rugby Club, Lower Road, Minster, Kent ME12 3RT
£2 per person entry
There will be fun dog shows, displays from a canicross group and obedience training, fun activities such as sausage bobbing, a small manned swimming pool to cool the hounds down, live music both days, stalls and food. There will also be live music in the club house on Saturday evening.
For more details visit https://www.facebook.com/groups/1682119388722700/