Halloween Pumpkin Dog Treat Recipes
When you are hollowing out that pumpkin for some spooky Halloween fun, you may be looking for recipe ideas to use all that tasty pumpkin flesh. There are many ideas for humans from pumpkin pie to soup or even chutney. But did you know that pumpkin is also a healthy and yummy food to give to your dog.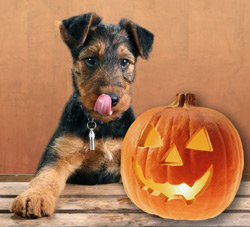 Get the flesh from your pumpkin as follows:
After cutting the top off your pumpkin, scoop out the fibrous material and seeds and discard that part. You are left with the pumpkin flesh, which you can scrape or cut out and use in your recipes. Pumpkin is so versatile and can even be frozen for later use.
Pumpkin Purée
Simmer the pumpkin flesh in a large pan of boiling water for about 20-30 minutes or until it is tender. Then simply drain it and mash it up with a potato masher. You can even put it in the blender if you want a really smooth purée.
This purée will keep for 3-4 days in the fridge or you can pop it in the freezer where it should keep for up to 6 months. Putting it into ice cube trays makes it really easy for you to pop a cube or two of purée out to defrost for your dog whenever you want to treat them.
To make the purée even more tasty, you could add some natural yoghurt or peanut butter (make sure it doesn't contain artificial sweeteners such as Xylitol as that is toxic to dogs).
A smooth purée goes really well in a squeezable dog treat dispenser. Puréed pumpkin combined with something sticky such a peanut butter also makes a great KONG stuffing ingredient. Simply mix the puréed pumpkin and peanut butter together and smear it into the inside for lots of licking fun. You can also fill it up and freeze it for a real doggie challenge.
Pumpkin Soup
When you make pumpkin soup for yourself, you might add all sorts of extra ingredients. But if you keep the recipe relatively simple or make sure you only add things your dog likes and can safely eat, your dog can enjoy it too. Woof!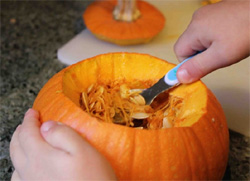 Try this simple recipe:
1kg pumpkin flesh (chunks or cubed)
1 litre chicken/vegetable stock (use low salt/low sodium cubes)
Put the pumpkin flesh and stock into a large pan. Bring to the boil and simmer on a low heat for about 20-30 minutes or until the pumpkin is tender.
Remove the pan from the heat and purée the mixture with a hand blender or liquidiser.
Allow your dog's portion to cool but your portion can be placed back on the hob and heated for a few more minutes.
Serve with plain natural yoghurt (optional).
You may prefer to add a dollop of cream or crème fraiche to your soup but many dogs don't tolerate dairy very well. You can see in the recipe above that we have used plain natural yoghurt as a serving suggestion, which your dog should tolerate and enjoy, but it is of course optional.
Why stop at pumpkin? Dogs can enjoy many boiled and mashed root vegetables and squashes. Try also adding carrots or sweet potato to the recipe.
Please note that onions and garlic should never be given to dogs. It can be very bad for their health and even fatal. If you want to add those ingredients, make sure you add them to your portion only. Salt is also not a healthy option, so again only add it to your own portion.
Baked Pumpkin
A tasty and exciting addition to your dog's usual dinner or given as a treat. It's very simple.
Preheat the oven to 220°C (gas mark 7).
Place a large sheet of tin foil on a baking tray and put your cubed pumpkin flesh in the middle.
Drizzle with oil and fold the foil to encase the pumpkin.
Bake for about 30 minutes then open the foil and bake for a further 5 minutes or until the pumpkin is tender and beginning to brown.
Pumpkin Dog Biscuits
These are so easy to make and very yummy. Your dog will love them.
300g wholemeal flour
2 eggs
125g pumpkin purée
2 tablespoons peanut butter
1/2 teaspoon ground cinnamon
Purée the pumpkin (see first recipe above) and allow to cool. You will need about ¾ of a cup of purée.
Preheat the oven to 180°C (gas mark 4).
Mix the flour, eggs, pumpkin purée, peanut butter and optional cinnamon (and/or ground ginger) in a bowl.
Knead the dough (add a little water if needed to make the dough workable).
Roll it into a thin sausage and cut it into dog treat sized pieces or roll it out and cut it with a cookie cutter.
Bake in preheated oven until dry and hard (approx. 30-40 minutes).
Some ground ginger can also be added to this biscuit recipe. Good for tummies and travel sickness.
All these recipes are woofalicious and no wasted pumpkin. Bargain!
So this year, don't just throw away that versatile pumpkin flesh. There are so many yummy ways to make great use of it.
We hope your dog enjoys the recipes.
Further info: Foods to Avoid Feeding to Your Dog
By Jenny Prevel
© D for Dog www.dfordog.co.uk
This article belongs strictly to D for Dog and we do not authorise the copying of all or any part of it.