Rehome A Virtual Dog To Help Unwanted Pets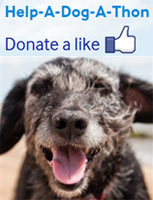 Rehome a virtual dog on Facebook and help raise £20,000 for Blue Cross to provide health checks to unwanted and abandoned dogs in their care.

Blue Cross have teamed up with Samsung and Crufts to launch the Facebook app Help-A-Dog-A-Thon. For every 'like' the app gets, Blue Cross will receive a £1 donation at no cost to you.

Play the game and you can choose and name your own dog, and make sure they're happy and healthy by taking them for a walk, giving them a groom etc.

You can also share the page with friends and, for each share, you'll win virtual goodies to give to your virtual dog.

You'll need play the app on your computer or laptop. Blue Cross are hoping to raise enough money to give 2,000 dogs in their care a health check up. You can see how they are doing by looking at the thermometer on the Help-A-Dog-A-Thon homepage.

Last year Blue Cross took in 3,015 dogs and they give all new pets a full health MOT before finding them new homes.

You can rehome as many virtual dogs as you like and there is only until Sunday 10th March 2013 - so please play the game and share with your friends on Facebook.

Give it a try today here Help-A-Dog-A-Thon. The more likes it gets, the more donations Blue Cross will receive.