Can you help Love UnderDogs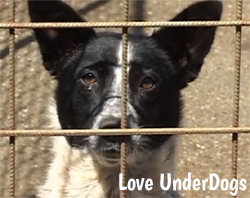 Love UnderDogs is one of the main organisations in the UK working to improve the lives of stray dogs in Romania and rehoming some of the most unwanted animals here in the UK.
It was set up by animal lovers who want to make the world a better place by helping and supporting some of the most unwanted, abused, neglected and voiceless dogs.
"The journey started with a dog shelter we visited in Romania. Having seen the conditions, we had to help."
As the name Love UnderDogs suggests, they rescue and re-home dogs that are old or disabled, too big, the wrong colour or just not pretty enough. Many of the dogs have terrible injuries including loss of eyes and limbs, skin conditions etc.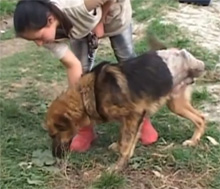 "With the help of caring people in the UK and some amazing organisations, we started rehoming these poor souls whose lives had been nothing but pain and suffering when all they wanted was love."
"Seeing their destiny change and their eyes, previously filled with sadness and despair, suddenly come alive was just magical. What could be more wonderful than to see those faces light up at the thought of life taking a turn for the better?"
Without help, these are nobodies dogs
Please watch and share.
Adopt an UnderDog
The wonderful and very deserving UnderDogs looking for homes can be seen here Our Dogs.
Julie Cross, keen supporter of the charity, adopted Jenson who was chained up for 10 years, rescued by Love UnderDogs and rehabilitated in their shelter in Brasov. Julie says "He's a real sweetheart and now he's 12, he really deserves all the love he's getting."
If you would like to find out more about giving a forever home to one of these deserving dogs, please visit Adopt a Dog.
All the dogs are neutered, microchipped, vaccinated and vet checked in the UK.

You can help these vulnerable dogs
If you can't adopt an UnderDog, there are loads of other ways to help.
You can make a donation. There are all kinds of ways you can make a donation. It is quick and easy to do. Choose from a one-off donation or a small monthly donation or a gift for a dog. Or you can sponsor a shelter dog from as little as £1 a week.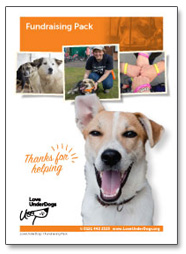 In the Buy a Dog a Gift section you can buy some food, a vaccination for a dog or even pay for neutering one animal. Such essential things make a huge difference to their lives.
Leaving a gift in your will is also another fantastic way to help.
If you are unable to donate, raising money is another great way to help. You can raise funds for the dogs at no cost to you.
And of course please do share this and spread the word. If everyone gives a small donation or helps in some way, it would make such a big difference and save lives.
"Great things can be achieved when we all work together towards a common goal, creating more happiness in the world. We welcome you to join us on this wonderful journey, it is a fabulous privilege to be able to make a difference and we would like to share it with as many as we can."
https://www.facebook.com/RomanianUnderdogs
Love UnderDogs Charity Registration No: 1152792