Help Ukraine Animals Caught in Conflict
We received an amazing email from UK dog and cat charity Battersea yesterday about the fundraising they have been doing for UPAW (an animal aid distributor in Ukraine). With the country grappling with nationwide electricity blackouts, vet clinics have been unable to perform emergency procedures and rescue centres have struggled to provide even the most basic level of care for the thousands of animals in need during a particularly cold winter.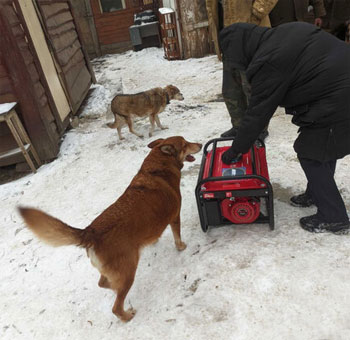 Battersea have raised enough to finance the purchase and distribution of 49 electric power generators that will support struggling Ukraine vets and rescue shelters amid national power outages. These power sources will allow clinics to treat an estimated 4,500 animals each month and keep approximately 8,000 dogs and cats warm and cared for in local rescue centres.
A member of the team at DarynaVet clinic told supporters:
"We've been having to perform surgery wearing only head torches. Having the generator means we no longer need to cancel emergency services and can get back to our usual operating schedule. Thanks again for such a gift - I am just too thrilled for words."
Commenting on the collaboration, UPAW Co-founder Olga Kirilovich concluded:
"Operating conditions are so tough for shelters and clinics right now. Those individuals we work with toil day in, day out to make life better for these animals, but without the very basics of electricity, heating and lighting, even with the best will in the world there's only so much they can do."
"We are so thankful to those organisations from other countries stepping in to support us, enabling us to help even more tailed hostages of war. With the right help, we can help ensure innocent animals are not unfairly suffering as a result of this ongoing crisis."
You can help
To help UPAW (Ukrainian Pet Association Worldwide) with a much needed donation, please visit https://upaw.org/en/
Donations help to fund vital UPAW activities or go towards buying animal feed or veterinary supplies.
About UPAW
UPAW is a dedicated website for animal welfare aid distribution, formed by a partnership of Four Paws, IRS and Dogs Trust Worldwide. It has worked tirelessly to protect the thousands of dogs and cats abandoned as a result of the conflict. As well as the provision of food and supplies, they are also undertaking works focusing on rebuilding, transportation and electrical generation for shelters and veterinary clinics.
To date UPAW has delivered over 129,639 monthly meals for dogs and cats (amount of pet food sufficient for two daily meals during a month) and 76,000 euros worth of veterinary medicines, equipment and consumables to clinics.