Hope Project - Helping Homeless Dogs & Owners
Dogs Trust Hope Project helps dog owners who are homeless or in housing crisis, providing advice as well as free and subsidised veterinary care for their dogs.
Today the scheme celebrates 20 years of giving hope to the homeless and their dogs. In the last 20 years the Hope project has transformed the lives thousands of homeless dog owners growing from just one clinic to over 100 vital services throughout the UK.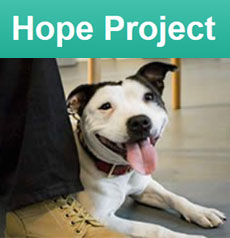 With the issue of homelessness taking centre stage at party conferences this month, and the Labour Party citing solving the housing crisis as their "top priority", the service which operates throughout the UK is as relevant and as valuable to the people it serves as ever. It is estimated there are 2,744 rough sleepers in the UK and many are accompanied by a pet dog.
When the Project launched in 1995 there wasn't a single dog friendly hostel in the UK and there was just one veterinary clinic run by the Hope Project to support dogs and their owners.
Now, in just twenty years, the project offers an invaluable service in 107 towns and cities across the UK, working with local vets and homelessness organisations, and last year funded over 1,700 veterinary treatments to help dogs remain with their devoted owners. Thanks to work of the project, there are now 157 dog friendly hostels nationwide.
Help with veterinary costs
The Hope Project offers free and subsidised veterinary care for dogs whose owners are homeless.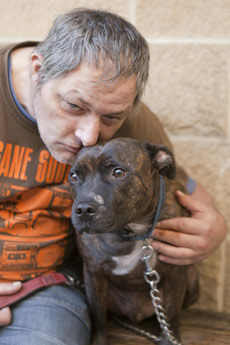 If you are a homelessness organisation in one of the areas where the scheme currently runs, you can make online applications for your clients and their dogs.
Dog owners can apply to the Hope Project Veterinary Scheme through a participating homelessness organisation in any of the scheme areas. Please ask your local homelessness organisation if they take part in the scheme.
If you are not in touch with any of the organisations that participate in the scheme, you can apply directly. You will need to provide proof from a recognised homelessness organisation or your local authority that you are homeless or in temporary housing.
Help with finding accommodation
Sadly most accommodation providers in the UK still operate a 'no dogs' policy meaning that homeless dog owners are denied access to the shelter and support they so desperately need, simply because they have a dog. The Hope Project works with hostels and housing providers to encourage them to accept people with dogs.
Welcoming dogs in hostels
Dogs Trust has been supporting dog owners who are homeless or in housing crisis for almost 20 years. One of their biggest concerns has always been the number of hostels that do not accept dogs. Currently only 9% of hostels in the UK are dog-friendly.
Dogs Trust offers free advice and support to hostels and housing providers to help them see the benefits of accepting dogs and to begin accepting dogs.
Hope Project resources
Hope Project has a range of resources to help dog owners and housing providers. Veterinary scheme resources includes a number of leaflets, fact sheets and booklets on topics from general dog healthcare to veterinary schemes. Welcoming dogs resources includes leaflets and sample forms for hostels and housing providers.
Find out more about the Dogs Trust Hope Project.
Moving on
One of the biggest challenges of accepting dogs in hostels can be helping the owner and dog to move on to more permanent accommodation. It can take some time to help dog owners find a pet-friendly landlord or housing provider.
Dogs Trust runs a Lets with Pets scheme to help pet owners find privately rented accommodation with their pets.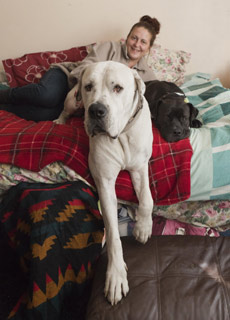 Christmas parcel service
Fifteen years ago the project also developed a Christmas parcel service for those who are homeless over the festive season, delivering essential supplies to 100 dogs in its first year. This Christmas the project will provide parcels to over 1,200 dogs nationwide.
Why this matters
67% of rough sleepers said they were still living on the streets because they couldn't find accommodation with their dog. Almost two thirds of people have been asked to give up their dog in order to get into accommodation.
Clare Kivlehan, Hope Project Manager, says "With 82% of homeless people saying that their dog is their best friend, we are proud to have provided essential and life-saving veterinary care to so many dogs over the past 20 years. However, with two thirds of homeless dog owners being asked to give up their dogs in order to find accommodation we know there is still much to be done and we hope our services continue to help as many homeless people and their dogs as possible over the next 20 years."
Donate
Dogs Trust is funded solely by public generosity. If you would like to support the work of Dogs Trust, please make a donation to Dogs Trust today.
If you would like your donation to go specifically towards the work of the Hope Project, please call the Dogs Trust Customer Services team on 020 7837 0006 and they will be happy to assist you.
Find out more
Hope Project dogstrusthopeproject.org.uk
Lets with Pets letswithpets.org.uk