How to Clean a Waterproof Dog Bed
Quality waterproof dog beds are easy to maintain and keep clean. The waterproof fabric won't take or hold dirt and odours as readily as softer more traditional dog bed fabrics, so a waterproof bed tends to smell less and need less washing and cleaning. General dirt and dog hair sticks less to the durable waterproof fabric, which means less cleaning, washing and general maintenance. Great for a mucky pup or all dogs.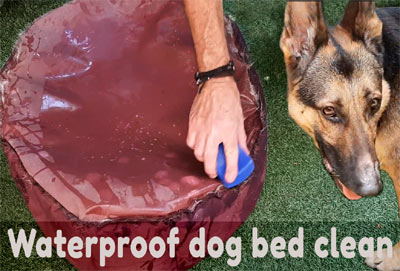 How to clean a waterproof dog bed
Every dog bed needs the occasional clean, even waterproof ones. But you can't just throw these in the washing machine. So how do you wash a waterproof pet bed or clean a dog bed that cannot be washed?
Hair and debris
General loose dirt, pet hair and debris can simply be vacuumed away weekly, monthly or as needed. These are not a weekly wash dog bed. As mentioned, the smell is much less which means less maintenance is needed. But what about splodges and marks on the waterproof cover?
Spot clean
For small dirt marks you can spot clean with some mild laundry detergent or even a squirt of washing up liquid. Use a sponge or soft cloth to spot clean just the part that needs a clean. Go easy on the detergents because with spot cleaning you are probably not doing a full or thorough rinse. If the mark isn't anything greasy, staining or too stinky, you probably don't even need to use a detergent. Simply use a damp cloth on any dried mud, paw marks or similar. You may even be able to simply brush muddy marks off with a stiff brush once the mud is dry.
Thorough wash
Machine washing is out so for a more thorough clean of a waterproof bed, take the inner base cushion out and start by vacuuming off any loose dirt and dog hair. Don't forget the base of the bed and inner cushion and all those pesky creases around the edges. If you are outdoors and prefer, you can brush it all off with a stiff brush. As mentioned, don't forget the bottom of the bed. This part can really collect hairs, especially if your home has hard floors rather than carpet.
Once dried dirt and dog hair is removed with your brush or vacuum cleaner, use a little bit of mild detergent on the inside and outside of the bed, to get rid of any stubborn stains and odours. A mild mixture of a non-biological laundry detergent is best. Use a large bowl or bucket with warm water and a small amount of detergent. Cold water is alright too if you are using an outdoor hose and this is a good way to rinse later but warm water works better for cleaning.
Of course, if it has a removable cover, take that outer cover off for a much easier job. The cleaning process is essentially the same but when the dog bed cover comes off, it makes the cleaning and rinsing process easier because you don't need to grapple with the entire bed or worry about getting the inner filling wet.
We recommend a mild non-biological detergent for use on any of your pooches beds, blankets and clothes because non-bio is kinder to sensitive skin and is therefore less likely to cause your furry friend irritation. If you find a non-fragranced one that is even better but a mild scent is OK. Remember that our furry friends have very sensitive noses and they don't appreciate the strong fragrances us humans enjoy.
Work your brush or cloth across the bed cover and into all those crevices. Again don't forget the base of the bed and the inner bed cushion. To do the inside of the bed you will find it easier if you actually turn the entire dog bed inside out. It is easier than trying to reach inside and it also gives you easy access to the inner edge crevice of the bed, which is a massive collector of dog hair, crumbs and dirt.
The pet bed in this video is about as bad as it gets. It was very loved by a white haired terrier and then put away in the attic for 2 years, so it is in desperate need of a clean.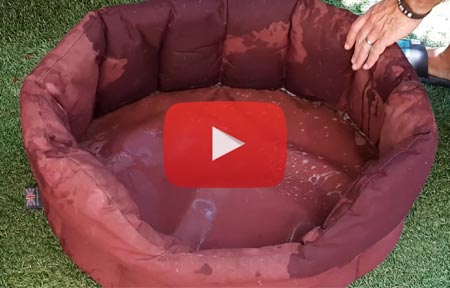 Once the entire bed has had a mild soapy clean, simply hose off. If you don't have an outdoor area or garden hose, this can be done in the shower or bath but don't over saturate and definitely do not soak the bed or immerse it in water. We don't want to soak water through to the filling. You are just rinsing the soap and dirt off at the surface level - not trying to saturate through to the inner filling of the bed.
Leave the bed to dry thoroughly on an airing rack or similar. You can even prop it up in an outdoor space, allowing air to circulate. Do not tumble dry.
Waterproof coatings
If the fabric of your pet's bed was protected by a water repellent spray or coating, avoid detergents or scrubbing as this could remove or damage the waterproof coating. Gently brush off any loose dirt, wipe with a damp cloth, rinse under a running tap or hose the bed down. Always check the maker's specific cleaning instructions before washing any dog bed.
Want more?
Why not check out some of our other popular dog blog articles and/or subscribe to our newsletter. It is packed full of useful information, shiny new things and special offers. We make it easy for you to keep up to date. Woof!
Looking to buy a waterproof dog bed UK
To view our full range, visit waterproof dog beds.