Increase in Dog Adoption & Top 10 Adopted Dog Names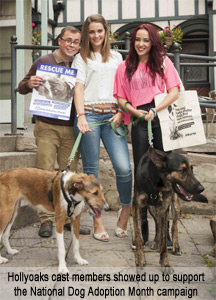 August 2013 was National Dog Adoption Month, a campaign by dog adoption site DogsBlog.com designed to help debunk the myths surrounding dogs in rescue and actively encouraging more families to consider adopting a rescue dog.

Kim O'Meara, co-founder of DogsBlog, gave us an update on the dog adoption stats.

- Dog adoptions in the UK rose by 64% last month
- Traditional breeds made a comeback
- Searches from a smartphone increased by a quarter

DogsBlog.com has revealed that dog adoption in Britain rose by 64% this summer during National Dog Adoption Month, compared to the same time in 2012, with over half finding their new canine companion through their smart phone.

The stats also show that the once sought after Shih Tzu has dramatically decreased in popularity with British pet lovers opting for more traditional breeds than in previous years.

English Cocker Spaniels, Labradors and Yorkshire Terriers are amongst the top five most searched for breeds on the Dog's Blog dog rehoming website, with Labrador searches up 35% on last year's figures.

10 most searched for dog breeds 2013
1 English Cocker Spaniel (up 27%)
2 Labrador Retriever (up 35%)
3 English Springer Spaniel (up 36%)
4 Yorkshire Terrier (up 14%)
5 West Highland Terrier (up 19%)
6 Shih Tzu (up 6%)
7 Border Collie (up 21%)
8 Whippet (up 20%)
9 Cavalier King Charles Spaniel (up 15%)
10 Poodle Cross (up 21%)

The news is welcomed after recent stats revealed that it costs an average of £14 a day (RSPCA January 2013) to care for dogs in re-homing shelters, a figure that is crippling many overcrowded shelters given the average stay of a dog is two months. Many have reported that they are turning hundreds of dogs away a month due to space and financial restrictions.

Dog abandonment increased
Although the news is a positive development for many dog-rehoming organisations, nationwide stats show that dog abandonment has increased by 30% compared to last year. A worrying 60% of UK dog rescue and animal charities would also say that animal cruelty has increased, with more dogs arriving underweight, in bad condition and malnourished.

Kim O'Meara commented "We need to do more to encourage people to adopt a dog but also to consider working through any problems they might be having with their dogs rather than just giving them up, or worse, just abandoning them on the streets."

The research also shows the top names of adopted dogs in Britain, with an understandable mixture of choices. Many are named by staff upon arriving at a dog shelter as very little is known about their identity or past, whereas some arrive with collars, identifying at least their name. Unsurprisingly, Lucky appears in the top 10 for adopted dog names, yet does not make an appearance in the top 100 dog's names in 2013, signifying the journey that dogs often take before being re-homed.

Top 10 adopted dog names 2013
1 Tessie
2 Joey
3 Elliot
4 Doobie
5 Nellie
6 Amber
7 Daisy
8 Finlay
9 Heidi
10 Lucky

You don't have to wait until next August to adopt. Why not take a look at these deserving dogs, all still looking for a home to call their own.

Nero

Nero is a lovely 4 year old Lurcher boy has been waiting for around 2 years for his new home. He's ideally looking for a new home as the only pet, ideally in the country so he can benefit from lots of long walks bounding around in the countryside. He loves to cuddle and nuzzle, he's got to much to offer.




Luka

Luka is a 8 year old male brindle Saluki cross Whippet. Luka came in to the rescue as a unclaimed stray, he was found with a extremely tight collar on and very underweight. He is one of the most laid back dogs we've ever met. He is good to be left for up to 5 hours, brilliant with other dogs, in fact we have not found a dog that does not like him so far!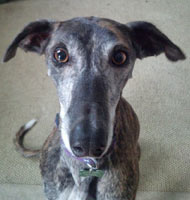 Larry

Larry is a stunning 3 year old brindle Greyhound. Larry the Lamb is as gentle and friendly as one himself. He has literally just retired from racing so looking to find a comfy sofa and lots of love. He loves to travel in the car and walks well on a lead. As he has just retired he will need some housetraining but Greyhounds are super quick learners so don't let this put you off.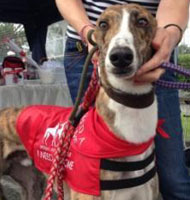 Freddie

Freddie is a good looking 6 month old dark brindle Staffordshire Bull Terrier lad with unusual wrinkly facial markings. He is a proud looking pup and a very loving dog. He is excellent with people, kids and other dogs. He is good on the lead and has brilliant recall off the lead. He will probably grow into a big dog. Freddie would be suitable for rehoming to a family where children are over 8 years of age.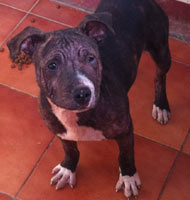 Cassie

Cassie is a 4 year old female German Shepherd cross Husky. This beauty is Cassie and she is looking for a new home through no fault of her own. Cassie is a very special girl and deserves a loving home that can give her the companionship she so craves. Cassie is a beautiful girl with a friendly and outgoing temperament. She would love a family to call her own and go on walks with and have a cuddle up on the sofa at night.