Join The Largest UK Dog Welfare Charity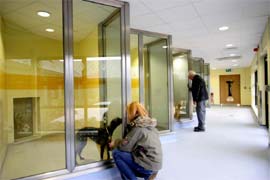 Have you ever wanted to work for Dogs Trust? They have positions available all over the country - in their head office, several rehoming centres, and at the Dogs Trust charity shops.

Have a look on the Dogs Trust website to see the list of vacancies at Dogs Trust.

Join the largest dog welfare charity in the UK, it's a great family to be a part of! And if you don't see something appropriate for you now, keep an eye on that page as that's where all of their vacancies go.

"We are looking for people who have an empathy with the aims and objectives of the Charity. Please remember to use your supporting statement to demonstrate how you meet job specification."

"Just like the dogs we care for our jobs come in all shapes and sizes but with one common purpose: To bring about the day when all dogs can enjoy a happy life free from the threat of unnecessary destruction."