Just Dogs Live
Just Dogs Live, incorporating The East of England Championship Dog Show, is being held on Friday 7th, Saturday 8th and Sunday 9th July 2017 at the East of England Showground, Peterborough PE2 6XE.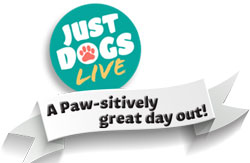 Just Dogs Live wants to engage, educate and enjoy the wonders of dogs. From showing, agility, displays, seminars, competitions and have-a-go activities there is something for everyone.
Have-a-go activities
Agility Sessions
Companion Dog Show
Scruffts Heat
Show features
UK & HWV Agility Display Team
East Anglian Staffordshire
Display Team
Training and
Canine Body Language
Canine Massage Guild
Essex Dog Display Team
The Wonder Collies
Phoenix Working Newfoundlands
Obreedience Heats
Everyone is welcome, and don't forget to bring Fido (see regulations).
There is no entry fee to Just Dogs Live 2017. Car park fee is £10.00 per car. There is a £2 charge for un-entered dogs which will be donated to dog charities. Gates open from 8am on all three days.
For more information, visit http://www.justdogslive.co.uk