Masai Beaded Dog Collars and Leads
Introducing a new range of stunning beaded dog collars and leads made by the people of Kenya. The beautiful beaded designs are sewn onto handmade brown leather collars and leads in gorgeous patterns and designs.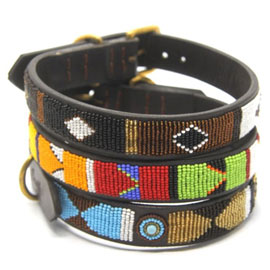 No two collars or leads are alike. While there are colour themes, they all vary in their design and the shades of beads used.
'Earth' is made with shades of brown, black, white and gold coloured beads, 'Bright' is multi-coloured, 'Sky' features shades of gold and browns with sky blue and 'Pastel' has soft pinks, yellows, oranges, greens and blues.
Masai people have beaded necklaces and wristbands for decades to tell a story of the wearer, their social and marital status, age and key events in their life.
Simply stunning.
To purchase or find out more, visit Beaded Dog Collars at D for Dog.