Give a Pet a Chance
The Mayhew Animal Home are urging people to "Give a Pet a Chance".
With a staggering 9 million homeless cats and dogs in the UK today, rescue centre and animal welfare organisation, The Mayhew Animal Home, are encouraging people more than ever to consider adopting a pet instead of buying.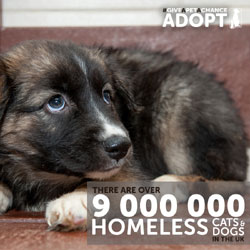 This month the home is launching their Give a Pet a Chance campaign in order to promote pet adoption and responsible pet ownership, to try and reduce these worrying figures.
The top two causes of homeless cats and dogs have been found to be puppy and kitten farms plus the large number of unneutered or unspayed pets.
In 2015, 40% of unwanted pets, some of whom ended up at The Mayhew, were originally bought from breeders and pet shops and 23% were rehomed to friends and family. The Mayhew found that 55% of dogs adopted from them were pedigrees, including Staffies, German Shepherds and Huskies. 21% of unwanted pets were bought online, with the highest number of pets found on Gumtree.
One reason why The Mayhew see so many cats and dogs come into their shelter is because many people underestimate the amount of time, money and responsibilities required to properly care for a pet. The PDSA Paw Report 2015 found that a shocking 5 million owners did no research at all before getting a pet.
Are you ready for a pet?
The Mayhew also want to educate people on responsible pet ownership with their campaign, in order to tackle this problem. They have released a responsible pet ownership checklist which people can use to help them seriously consider the costs and responsibilities involved with looking after a pet over their lifetime.
Caroline Yates, Chief Executive of The Mayhew Animal Home, said: "With the huge volume of homeless cats and dogs that come into our charity every year, it's vitally important that we ensure pet owners understand the responsibilities of owning a pet."
"Most of the unwanted pets have originated either from breeders or were purchased via pet shops or online, or were rehomed with a friend, family or through word of mouth. Owners have then realised that a pet requires significant investment including food, regular exercise, veterinary treatment, pet insurance and holiday care. Taking on a pet needs a lot of thought as it should be a lifelong commitment to that animal."
Find out whether you are ready to be a responsible pet owner at https://themayhew.org/responsible-pet-ownership-checklist/
Give a pet a chance. Adopt
Are you looking for a new best friend? Why not adopt one instead of buying? Adoption is not only often the cheaper option you will be giving a deserving pet a home.
"We find loving homes for hundreds of dogs and cats every year and we urge those thinking about getting a pet to adopt rather than shop. Your perfect companion is waiting, not only at our facility, but at facilities across the country" says Caroline.
There are an estimated 9 million homeless cats and dogs in the UK who all need a new home.
To adopt a cat or dog visit https://themayhew.org/giveapetachanceadopt/ or call 0208 962 8009.
In 2015 The Mayhew Animal Home has rehomed 416 cats, 90 dogs, reunited 63 dogs with their owners and helped an impressive 1327 animals in the community.
#giveapetachance