Amazing Mick - Swimmer Puppy Syndrome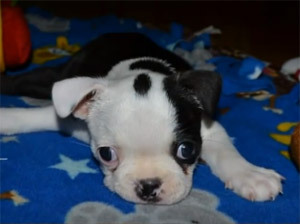 This darling little puppy was born with Swimmer Puppy Syndrome.

In July 2013, The Mia Foundation, who rescue animals that are born with birth defects, was asked to take in a 6 week old Boston Terrier puppy who had Swimmer Puppy Syndrome. He couldn't stand, walk or even sit because all four of his legs splayed to the sides.

In these cases extensive therapy is needed. Many puppies with this syndrome are euthanised if they don't get help.

The Mia Foundation agreed to take the pup and help him. They named him Mick.

With lots of love and care, some bandages to stop his legs splaying, a harness to help support his weight and even some swimming therapy, you won't believe the transformation in this little dog. This wonderful video shows some of Mick's road to recovery.

Update:
Here is Mick just a few days later! Wow, look at him run and not only that – no bandages.
It is just amazing what love, care, time and patience can achieve. Well done everyone involved. You are superstars. Have a lovely, bouncy life Mick.
The Mia Foundation was developed to give animals born with birth defects a fighting chance. So many animals born with birth defects, such as cleft palates or missing limbs, are euthanised at birth.
"With a little work and a lot of love, these animals give back so much more than anyone could possibly imagine. All they need is a chance!"
To find out more about the Mia Foundation please visit their website
http://www.themiafoundation.com
. You can also visit their
facebook page
for updates and info.