Movember is for dogs too - Canine Prostate Awareness Month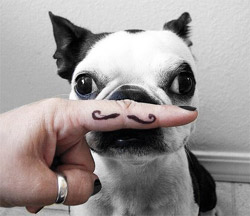 Movember is not just about men. Male dogs get prostate disease too so November is now also National Canine Prostate Awareness Month.

Movember is an annual, month-long event involving the growing of moustaches during the month of November to raise awareness of (human) male prostate disease and testicular cancer.

With more than 80% of entire male dogs over the age of five suffering from Benign Prostatic Hyperplasia (the most common prostate disorder in dogs), November is the perfect time to highlight the prevalence of prostate disease in older, in-tact male dogs and to encourage vet practices and owners to do checks on dogs at risk.

Quite often dogs show no signs of prostate issues but they may be in pain. An increase in the size of the prostate gland can cause constipation and flatter ribbon-like stools, problems with urination, blood in faeces or urine.

If you have an entire (non-castrated) male dog over 5 years old, get their prostate checked this November.

Did you know
BPH can be permanently prevented by castration due to the reduction in testosterone production.

The dog moustache
No, we don't expect your dog to actually grow a moustache but, to show your support and raise awareness of this important health issue, why not take a cute pic of your pooch sporting a fake comedy moustache like the one above.